They maybe six months out from their graduation, but two Charles Sturt University (CSU) students are nervously awaiting their international television debut on ABC News 24 channel on Friday 27 July.
Television production
students, Mr Blake Castle and Mr Stuart McGhie produced, shot and edited a two minute video documentary about a Wagga Wagga man's love of tournament paintball. The video was submitted to ABC Open's
110%
project and then chosen to feature on ABC News 24.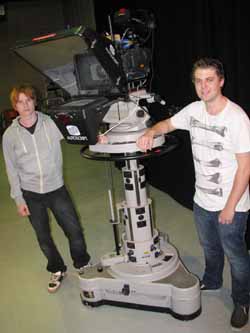 Mr McGhie said, "We wanted to do something outside the box for
110%
, so decided paintball would be a fun, high energy and fast-paced sport to focus our story on."
Mr Castle said, "We got in contact with the business, Project Paintball Wagga, who let us know about Josh's dedication to his sport. After we talked and met with Josh we knew that he would be a great subject for the video.
"Josh is very passionate about paintball and speaks about the feelings evoked from the game, the commitments he has made to be a part of his team, as well as the friendships he has formed through the sport."
The students shot the video over three days at Demon's Paintball near Wagga Wagga, in the television studio at the
School of Communication and Creative Industries
at CSU in Wagga Wagga and at Paintball Sports ACT in Canberra. A further two days was spent editing the video.
The video is also part of the two students' portfolio for one of their final-year subjects. Their portfolios also include larger scale productions such as
Ross Noble Live
,
Newton's Nation
at Mount Panorama at Bathurst, and the Wagga Wagga Food and Wine Festival.
Lecturer in television production in the School of Communication and Creative Industries, Mr Matthew Olsen, said, "It is an incredible achievement for these two students to have their work aired by the national public broadcaster. I am extremely pleased for Blake and Stuart. They are great examples of the high-calibre of students in our television production program."
Mr Castle said, "The opportunity for our video to be screened on television is just amazing. It really is awesome to know that we produced the content from start to finish. I'm really excited to see it live, even though I can probably recite it word for word by now! It's a great feeling knowing that it will be shown live around Australia."
Josh Hoad: Paintball will air on ABC News 24 at 6.45pm on Friday 27 July as part of the ABC Open television program, a weekly 15 minute show that highlights contributions from around regional Australia. The episode will also be available on iView from Friday 27 July.
Both students are from Wagga Wagga and look forward to their graduation at the end of 2012.
The video can be viewed on ABC Open
here
.