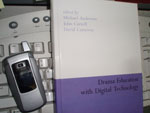 A new book co-edited by researchers from Charles Sturt University (CSU) offers an insight into the many ways in which innovative drama teaching can be integrated with digital gaming technology to create a memorable student learning experience.
In the book,
Drama Education with Digital Technology
, Professor John Carroll and Mr David Cameron from the CSU
School of Communication
at Bathurst, and Dr Michael Anderson from the University of Sydney, describe the new hybrid art forms arising from an emerging web-based production culture.
"Drama Education with Digital Technology explores the rapidly evolving intersections between drama, digital gaming, technology, and teaching," said Professor Carroll.
"The contributors of each of the book's chapters document contemporary practice and research in the new world of social media, exploring the reality of teaching the aesthetic art form of drama to technologically-able students."
Drama Education with Digital Technology also examines cases from existing classroom practice at all levels, with a focus on secondary-tertiary, to present teaching approaches and understandings that are evidence-based and supported by cutting edge learning theory from leaders in drama and technology education.
"These approaches to digital and social media can be adapted for use by teachers and facilitators of drama education," Professor Carroll said.
"The book assumes students are using the now commonplace tools of social media – the internet, mobile phones, SMS, Facebook, YouTube, Google – as part of their daily lives, and integrates these technologies into drama teaching.
"This is everyday technology now, and we assume teachers want to make their teaching approaches relevant by starting where students are, and not use nineteenth century modes of teaching for twenty-first century students," he said.