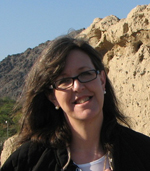 An accounting academic at Charles Sturt University (CSU) has been jointly awarded the 2009 prize for Innovation in Accounting History Education by the US-based Academy of Accounting Historians.
Dr Jayne Bisman, an associate professor in accounting at the
CSU School of Accounting
at Bathurst, won the award for her work on the postgraduate course in accounting history education offered by the University.
Associate Professor Bisman is a management accounting specialist, with particular interests in the role and uses of management accounting in the contemporary public sector and small businesses, as well as historically during the Australian colonial period. She currently teaches in a range of postgraduate subjects in accounting and
Doctor of Business Administration
programs, supervises research students and coordinates the
PhD
and
Master of Commerce (Honours)
programs in the Faculty of Business.
The Head of the School of Accounting, Associate Professor Ross Wilson, congratulated Associate Professor Bisman, saying that the awarding committee noted how unusual it was to receive two such excellent submissions in the one year, both of which were supported by papers published in the Accounting Historians Journal (June 2009), and the committee were unable to decide between them. The co-recipient of the award, for an unrelated study, is Dr Ellen J. Lippman from the University of Portland, Oregon, USA.
"This is an outstanding achievement by Dr Bisman," Professor Wilson said. "The award relates to her research specialisation in accounting history and specifically to her development of, and teaching in, the postgraduate subject
Accounting and Business History
offered at Charles Sturt University."
Professor Bisman said the award is an example of and reflects the international recognition of how staff at CSU are successfully integrating their research and their teaching and are developing innovative approaches to education for the benefit of students.
"In particular, both the subject and the published study about the subject illustrate and emphasise that educating students about the history of accounting has genuine and concrete relevance and implications for what accountants do in practice today," Professor Bisman said. "That is, how we currently account for economic activity, why we use the procedures and techniques that we do, and how understanding the history of accounting, both as a discipline and a profession, helps us to think about and implement improvements to current accounting practices and policies.
"The subject also aims to build and enhance a range of generic skills that accountants in practice require, including advanced communication, problem-solving, critical thinking, and research competencies. Because of the global financial crisis and the community's heightened awareness of and need for accounting competencies, there has never been a better time to study
accounting
," Professor Bisman said.