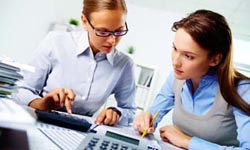 Charles Sturt University (CSU) research aims to better understand the relationship between small businesses and their accountants, to add value to the services provided.
Doctor of Business Administration student with the University's School of Accounting and Finance, Mr Michael Cherry, is investigating what helps form trust between small and medium sized enterprises (SME) and their accountants.
Mr Cherry said, "Public accountants are often referred as the 'most trusted advisors' for SMEs but does this just mean they are the most prevalent advisor, or are they the most trusted?"
The research will also examine how the trust relationship between SME's and their public accountant is affected by the accountant providing broader business services.
"I believe SME's could benefit from more advisory services for their business, beyond the usual compliance services such as annual tax returns or quarterly business activity statements," said Mr Cherry.
"Many accountants can provide guidance on broader issues to improve business sustainability, but unfortunately this is not recognised by many business owners.
"Furthermore national accreditation bodies for public accountants, such as the Chartered Accountants Australia and New Zealand, CPA Australia and The Institute of Public Accountants encourage their members to broaden the business services they offer their clients."
The research will also consider the influence of other factors on the trust relationship, including the duration of relationship, degree of face-to-face contact, the depth of relationship, the size of the accountancy firm and the accountant's accreditation body. Differences between businesses located in metropolitan and regional areas will also be explored.
Mr Cherry is calling on SMEs around regional and metropolitan to complete a short online survey to help him investigate these trust factors in Australia.
"SMEs are vital to the Australian economy. There are around 2 million SMEs, making up 96 per cent of all Australian businesses, they contribute 55 per cent of overall economic output and employ 70 per cent of the national workforce," said Mr Cherry.
"Increasing their business performance via better access to refined business advice could only help our economy.
"Whilst the adage of the public accountant as the SME owner's most trusted advisor is oft-quoted, it is important that the profession truly understands what this means, as well as the drivers of this trust, from the perspective of these people."
The online survey is here and closes on 24 November 2016.