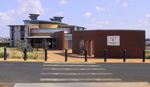 Future business leaders from western NSW are being urged to consider the range of study options and exceptional career and remuneration prospects for graduates of the accounting and business courses offered at Charles Sturt University (CSU) at Dubbo.
"The demand for accounting graduates in regional areas far exceeds the supply, and Charles Sturt University's business courses enjoy a 91 per cent graduate employment rate," Professor Wilson said.
"In addition, most of the world's leading corporate Chief Executive Officers commenced their careers in accounting, and accounting salaries, relative to those in other business careers, increase at a greater rate as experience is gained.
"As final-year high school students in the region consider their options and apply for admission to university study in 2010, it's important that they recognise the many benefits of studying accounting and business at Charles Sturt University.
"Living and studying closer to home at one of the University's regional campuses – be it at Dubbo, Orange, Bathurst, Wagga Wagga or Albury - is much cheaper than studying at a metropolitan university because accommodation, food, transport and entertainment expenses are far lower in regional areas. The University also has many scholarships on offer to assist you with study expenses.
"You can study at Charles Sturt University as a full-time, part-time or distance education student, and you can mix these modes of study to suit your circumstances, for example, by studying some subjects on campus and some by distance education.
"Class sizes at Charles Sturt University are smaller than those at metropolitan universities, so you get to know the other students and the staff, and, importantly, they get to know you. You are not just another face in the crowd," Professor Wilson said.
Professor Wilson reinforced commitments made to the Dubbo community earlier in the year that CSU is focussed on ensuring courses offered at the University's Dubbo Campus, including accounting and business courses, continue to serve the needs of the region. He also pointed out that the 2010 Good Universities Guide rankings recognised the benefits of studying at CSU, with a five star rating for getting a job, and four star ratings for both graduate starting salaries and graduate outcomes.
Mr Peter Carnell from local accounting firm WHK Central West said, "Many Dubbo-based accounting practices work closely with high schools to attend careers days, to provide work experience, and to recruit accounting cadets. Cadets are provided with high levels of support from their employer, including text book allowances, mentoring, and study time to attend classes, undertake private study, and prepare for exams".
Ms Caroline Wilcher from Dubbo accounting firm Boyce Chartered Accountants said, "Charles Sturt University accounting courses are accredited with CPA Australia and the Institute of Chartered Accountants of Australia, the two major Australian professional bodies in accounting. The University's accounting programs are flexible so that students can incorporate working in the industry alongside study, which we believe provides an ideal pathway into an accounting career and an edge for future employment opportunities".