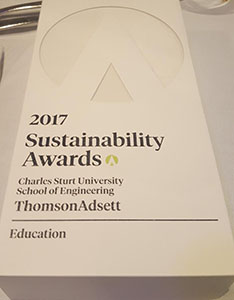 The Charles Sturt University (CSU) Engineering building in Bathurst was recently named the winner of the 2017 National Sustainable Building Award for Educational Projects.
In their tenth year, the National Sustainable Building Awards is Australia's most respected award that recognises design and construction of sustainable buildings. The awards cover 12 categories ranging from educational buildings, single and multiple dwellings, historic buildings, landscape and urban design, as well as interior architecture and building products.
In winning the Educational Projects category, the CSU Engineering building was recognised for its redevelopment from a maintenance shed to an innovative educational building.
This point was not lost on the competition jury who described the building as embracing sustainability holistically by reusing an existing building and integrating renewable energy, best practice water systems, and the creation of an open and flexible interior.
Professor Euan Lindsay, Director of CSU Engineering, described the award as recognition of the University's commitment to action on sustainability leadership and learning.
"The CSU Engineering building in Bathurst is a good example of taking the University's sustainability goals and making them a reality," Professor Lindsay said.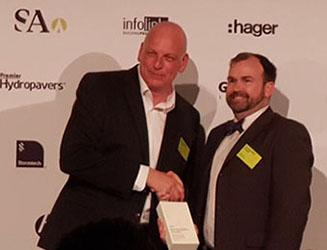 "An added benefit, is our students learn about sustainable building design and building by seeing it in action - it's a lived experience."
The building architect, Thomson Adsett, collected the award. Mr Chad Brown (on right in photo), a partner of the firm, said the building reflects the University's, and in particular CSU Engineering's, commitment to student learning.
"The competition jury noted the building fused the aspirations of the University with the architecture that would create a new learning experience for students," Mr Brown said.
Mr Brown added that Thomson Adsett were also commended in the NSW Architect's Awards for Sustainable Architecture for the building's design.
The National Sustainable Building Awards ceremony was held on Thursday 26 October.