Charles Sturt University's (CSU) education of future sustainability leaders and research are some of the initiatives highlighted in its United Nations (UN) Principles for Responsible Management Education (PRME) progress report.
The report, prepared by CSU's School of Management and Marketing, outlines progress the University has made against the PRME principles. These principles cover six areas that include; purpose, values, method, research, partnership, and dialogue.
CSU lecturer in management, Mr Simon Wright, explained the University is a leading Australian university in sustainability, becoming the country's first to be certified carbon neutral in July 2016. Critical to this, he explained, is the embedding of sustainability thinking into the University's teaching and research.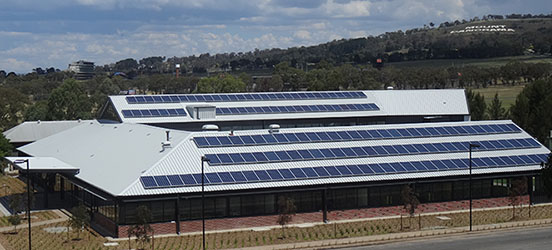 "PRME raises the profile of Charles Sturt University and reinforces its commitment to regional Australia, and creates future leaders focussed on sustainability," Mr Wright said.
Mr Wright pointed out there was growing demand for sustainability learning, saying the Managing Sustainability postgraduate subject began with 15 students two years ago and has now grown to 70 students.
Echoing this sentiment is Mr Karun Bhusal, a CSU online education student who said the course was giving him an invaluable perspective into his career.
"This ranges from whether it's adopting small things, like using energy efficient light bulbs, to influencing government and corporate sustainability policy decisions," Mr Bhusal said.
Mr Bhusal further explained that the course helped him think of sustainability as something that should be part of managing a business, not stand-alone.
"Having a practical as well as theoretical course makes learning more impactful in my day-to-day work," Mr Bhusal said when talking about the University's teaching method.
Being involved in PRME also embeds sustainability into everything the University does, including its research, where a strategic focus is placed on regional areas.
"This research takes in food production, water management, natural resources, economic and social development," Mr Wright said.
In addition to CSU's teaching and research activities, it has made investments to reduce its carbon footprint and will soon unveil Australia's largest array of rooftop solar panels on a single site. Spread across CSU in Wagga Wagga, the solar installation will consist of more than 6 000 panels and is rated at 1.77 megawatts.
The CSU Summary report encompasses all areas of the university and can be downloaded from the UN PRME website.
"We worked across multiple areas of the University including the Vice-Chancellor's Office, CSU Green, and the School of Management and Marketing," Mr Wright said in explaining how the report captures the various activities undertaken across the University's seven campuses.