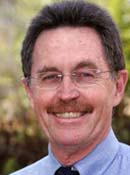 Research conducted by the Western Research Institute (WRI) at Charles Sturt University (CSU) shows that the majority of accountants trained at the University choose to remain in regional Australia after they graduate, and many of those who move away return later seeking a quality of life they knew they enjoyed and could find again in the country.
Director of the WRI, Mr Tom Murphy, says the results of the 2008 CSU Graduate Destination Survey of Accountants provides evidence of the contribution of CSU to regional economies.
"While business services are typically under-represented in regional areas, and this has a negative impact on economic development and investment in regional business, CSU addresses this shortfall by providing skilled accountants who are more likely to remain in and serve regional areas," Mr Murphy said.
This study surveyed 137 accountants in accounting firms, other private enterprises, and government departments or agencies in regional NSW and northern Victoria. Three quarters of respondents were CSU accounting graduates.
"Survey respondents had a strong preference for remaining in regions. Eighty four per cent of CSU graduates remained in regional areas and on average completed their degree eight years ago. About 16 per cent of accounting graduates had moved to metropolitan areas or capital cities but later moved back, so there is also a clear tendency to return to regional areas," Mr Murphy said.
"The survey found that CSU accountants were found across the full range of accounting occupations including in accounting firms, non-accounting companies, and all levels of government.
"CSU accounting graduates were also identified at all levels of accounting from first-year accountant to senior accountant, manager, partner and senior partner.
"CSU was the institution of choice for the majority of respondents who intended to undertake further study."
Mr Nicholas Bewick, Chief Financial Officer at Wagga Mutual and a CSU accounting graduate, said "The survey shows that the completion of a degree in a regional environment, such as at CSU, also provides a regional grounding for the start of a student's adult life by developing their professional roots. They form bonds and associations within the regions while studying, and that often either keeps them in regional Australia or it brings them back."
Earlier WRI studies in 2004 and 2006 found that 70 per cent of (then) Faculty of Commerce students who originated from regions found initial employment in regional areas.