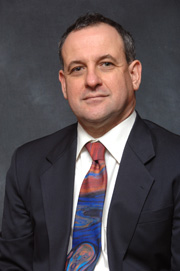 A marketing expert new to Charles Sturt University (CSU) says consumers place value on locally manufactured goods, and the closure of regional industries such as white-goods manufacturer Electrolux in Orange, NSW, will have consequences for the brand in Australia.
Professor Steven D'Alessandro has joined the CSU
School of Marketing and Management
in Bathurst and brings a range of interests within the
marketing
discipline to the School. He has taught at several universities in Australia, has published many peer-reviewed papers, and is an experienced marketing commentator in the media.
"My role as the Professor of Marketing at Charles Sturt University is to mentor staff, and develop industry links which lead to high-impact research," Professor D'Alessandro. "I am particularly interested in how the University can add value to its local business communities."
Acknowledging that marketing is sometimes a misunderstood concept, Professor D'Alessandro said, "There is widespread consumer cynicism regarding marketing, and its widespread acceptance by many organisations is still a long way off.
"Marketing's role is to facilitate transactions that benefit consumers and society in the long run, while ensuring that organisational objectives can be met.
"The challenges in marketing are that changes are so many, so abrupt, that planning for them has become increasingly problematic. Enlightened marketing practice has the potential, though, to help build more responsive organisations in the way they deal with consumers and other stakeholders.
"Good marketing practice also should address concerns of sustainability and deal with the societal outcomes of its actions as well."
In relation to the recent closure of the Electrolux factory in Orange and staff reductions at Simplot in Bathurst, Professor D'Alessandro said, "We need in Australia to develop much stronger national and regional brands to which there is greater consumer loyalty. The challenge for food producers and suppliers is that this is difficult, given the cost pressures imposed on them by the dominant supermarket chains Coles and Woolworths, and the high Australian dollar which makes imports cheaper and export markets more difficult to sustain. A possible solution may be to develop niche brands that have high margins. Good examples of this are truffles, cool climate wines, boutique beer, and food brands in the Orange district.
"In terms of Electolux, it is a shame that a niche brand was not developed targeting consumers who want to buy Australian products. I would have called this an 'Orange fridge', and coloured it orange so it stood out in retail stores to make it more exciting and engaging than the otherwise dull, white appliances, like Apple did with the coloured Macs in the 1980s."
Professor D'Alessandro's expertise in consumer behaviour and marketing includes particular research interests in: the effect of country of origin information on consumer judgments and choice;
materialism and compulsive consumption; consumer durable purchasing behaviour; body image; luxury consumption in China; brand switching in mobile phones; marketing strategy and the environment; simulations and complex systems analysis; diffusion of innovations; and marketing of pharmaceuticals.