* Funding promotes Riverina innovation and entrepreneurship
* Boosts opportunities for CSU students, experts and start-up businesses
* Extends the work of CSU AgriTech Incubator supported by the 'Boosting Business Innovation Program'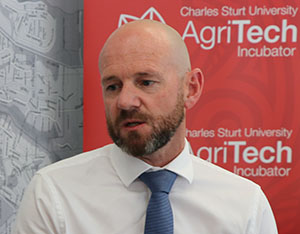 A funding announcement by the NSW Government will assist Charles Sturt University (CSU) to work with Working Spaces HQ and Wagga Wagga City Council to promote innovation and new businesses in the Riverina region.
The announcement was made in Wagga Wagga on Wednesday 29 August by the Hon. Niall Blair, MLC, Minister for Primary Industries, Regional Water, and Trade and Industry (pictured).
The funding is provided under the Jobs for NSW Local Innovation Network scheme. The application was led by Working Spaces HQ, in conjunction with the CSU AgriTech Incubator and Wagga Wagga City Council.
Overall project funding of $300,000 for one year will see $85,000 allocated to CSU. Specifically, $70,000 will be directed to foster students to be innovative and entrepreneurial, and $15,000 will be allocated to enable relevant CSU staff to be entrepreneurial champions.
Director of the CSU Office of Government and Community Relations Mr Peter Fraser said, "Charles Sturt University today welcomes the Berejiklian Government's announcement to provide $300,000 to fund the Jobs for NSW Local Innovation Network in the Riverina.
"This funding allows the University to build on its long-term strategic commitment to growing opportunities in rural and regional New South Wales.
"This investment by the NSW Government will allow Charles Sturt University to further develop our agritech eco-system in Wagga Wagga, and accelerate current opportunities which are already underway.
"Importantly, this decision allows Charles Sturt University's AgriTech Incubator to extend the work of the Boosting Business Innovation Program which has turbo-charged the University's ability to serve our communities in this space.
"This is another example of the NSW Government's commitment to working with Charles Sturt University in Wagga Wagga, ensuring that this city is a great place to live, work, study and invest."
The $300,000 allocation will encourage regional incubators and other related start-up support partners to:
* Better connect regional entrepreneurs with skills, investment, customers and infrastructure by building partnerships locally, with other NSW locations and with the Sydney Startup Hub.
* Improve the quality of offerings available to regional entrepreneurs by developing a best practice approach to assisting start-ups and scaling firms.
* Assist more entrepreneurs by extending the geographic outreach of operations and/or capacity to assist start-ups and scaling firms.
* Build a pipeline of future customers to ensure long-term sustainability of operations for local innovators.
Project Officer at the CSU AgriTech Incubator Ms Siobhain Howard said, "We would like to thank the NSW Government for providing funding through the Local Innovation Network.
"This is an exciting opportunity for CSU's AgriTech Incubator to further develop the pipeline of new regional start-ups by training and activating student entrepreneurs as we continue our commitment to building innovation and the start-up ecosystem in the regions."