* Three CSU AgriTech Incubator alumni attended a Young Entrepreneurs International Bootcamp
* Alumni met with industry leaders of India's fast growing tech start up industry
* Only 33 NSW early stage entrepreneurs completed the boot camp
Three Charles Sturt University (CSU) AgriTech Incubator alumni were selected to attend the Young Entrepreneurs International Bootcamp recently in India.
Jake Eaglesham founder of Rugby Matcher, CSU student and founder of Outback Wings, Mackenzie Bond and Tim Klapdor, Agrihack participant and co-founder of Chickon all took part in the bootcamp.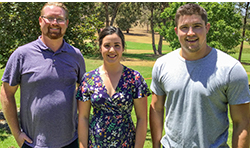 Speaking about the experience Mr Eaglesham said he was thrilled to have taken part in the trip and tick off India as a bucket list item.
"India was always on my bucket list and being able to travel there with SSE was a fantastic opportunity. I'm a non-tech founder of a tech startup so gaining exposure to India's thriving tech ecosystem was a real eye-opener for me.
Six months ago I joined the CSU AgriTech Incubator program with an idea and now I've travelled to India with my startup, Rugby Matcher.

All three of us are alumni from the CSU AgriTech Incubator, proving that Wagga is fast becoming a world-class hub for innovation and economic development" said Mr Eaglesham.
Ms Bond described the opportunity as an entrepreneur's dream. "To collaborate with innovative minds on an international stage is nothing shy of incredible. India epitomises exponential growth; the possibilities for a start-up business are endless" said Ms Bond.
"This was a huge opportunity to get experience on the ground with some of the most innovative and dynamic start-ups, companies and investors on the planet.

I really immersed myself in the culture and absorbed plenty during the 10 days we were there. While it was a short trip, it was an incredibly rich itinerary, and we got to visit some of the key centres of innovation in India - Mumbai, Pune, Ahmedabad and Bengaluru" said Tim Klapdor.
Over 10 days they undertook an intensive immersion program taking in four Indian cities, touring over 40 companies, speaking with industry leaders to provide them the opportunity to learn, grow and scale up their businesses.
CSU AgriTech Incubator Project Officer, Siobhain Howard said "the AgriTech Incubator team were thrilled that three of the Riverina's emerging entrepreneurs participated in this fantastic entrepreneurial experience and were able to learn from India's industry leaders and have the opportunity to grow and scale their start-up."
The three joined 30 other early stage entrepreneurs from NSW with the boot camp jointly funded by the NSW Government and the Sydney School of Entrepreneurship (SSE).
The SSE is a unique collaboration between all 11 NSW universities and TAFE NSW. SSE's mission is to drive next generation entrepreneurship, making opportunity accessible to any student entrepreneur in NSW.
Each of the alumni have participated in the CSU AgriTech Incubator 8 week program. The aim of the AgriTech Incubator is to support the development of the start-up ecosystem and SME business innovation in the wider Riverina NSW.
Establishment of the AgriTech Incubator was enabled by the generous financial support of the NSW Government through the Department of Industry's, Boosting Business Innovation program together with co-investment by the University.
Ms Howard said having three people from the Riverina selected and attend the bootcamp was a reflection of the high standard and ideas coming out of the region.
"Having three of the 40 places given to our alumni reflects the strength of the region and the AgriTech Incubator program in supporting and developing innovation," Ms Howard said.
If you have a business idea, but are not sure how to turn it into a reality, please contact the CSU AgriTech Incubator team on Ph: 02 69334004.

Picture (L-R) Mackenzie Bond and Tim Klapdor and Jake Eaglesham.