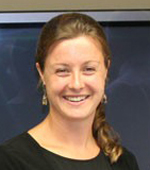 Households are tipped to benefit from research that will directly influence an energy supplier's decisions on demand management.
Charles Sturt University's (CSU)
Institute for Land, Water and Society (ILWS)
researcher, Ms Jodie Kleinschafer, whose PhD titled
Household Decisions to Reduce Energy Consumption
was funded by industry partner Country Energy, hopes to submit her findings by the end of the year.
Ms Kleinschafer's segmentation analysis of the market has found that a 'one size fits all' approach to demand management won't work.
Demand management is a term used within the industry regarding the management of household efficiency or electricity consumption.
In November 2005 Ms Kleinschafer began her PhD on household electricity efficiency and decision making with supervisors Professor Mark Morrison and Dr Roderick Duncan.
"We ended up doing two projects for Country Energy," Ms Kleinschafer said. "Because we collected enough data, we were able to do a project on household decision-making and another where we segmented the market in two different ways using household types and motives to increase efficiency and decrease electricity consumption."
Information for the project was collected from nine focus groups (76 people) in three different locations in NSW – Wagga Wagga, Bathurst and Port Macquarie. About 4000 Country Energy customers were then surveyed with 1100 responses.
"We examined how households made decisions and found that decision making did influence the efficiency outcomes chosen and this was worth understanding in order to assist Country Energy with developing marketing campaigns. We looked at what householders had done previously in terms of investing in energy efficiency and changing behavior, and then we looked at their predicted future choices if Country Energy were to run different demand management strategies."
These strategies included home energy audits, a Smart Meter program which gives you price and usage information, a Remote Load Control program (where the power company is able to cycle electricity to air conditioners and hot water systems in critical periods), subsidies for air conditioning and insulation, and voluntary load reductions. "Country Energy cycle electricity by remotely controlling air conditioners and pool pumps in a similar fashion to off-peak hot water, for example, turning the appliance off for 15 minutes out of each hour."
In the second phase of the project Ms Kleinschafer found there were groups in the market that differ in terms of their preference for energy efficiency; the energy efficient behaviors they've carried out in the past; and their motives.
"Out of the motive-based segmentation we found there were six different groups of households, two lower socio-demographic, three higher socio-demographic, and one average group," Ms Kleinschafer said.
"Within the lower socio economic groups, there was one group influenced by price sensitivity and environmental consciousness, while the other wasn't interested in engaging in energy efficient behaviours. Of the higher economic groups, there was one group motivated by comfort so they preferred to pay more to be comfortable; there was one group that felt disempowered and felt that even if they did make a change it wouldn't make a difference; and there was one group that was motivated by price and the environment."
Ms Kleinschafer says the findings from the segmentation analysis show that a 'one size fits all' approach to demand management is not the way to go as there were different groups in the community that have different needs and have different preferences for energy efficiency.
"If you want to manage demand efficiently you have to tailor your approach to different groups," says Ms Kleinschafer.
In May this year, Ms Kleinschafer presented her findings to Country Energy management, who will use the research to assist with the implementation of its 'Intelligent Networks' program, designed to make demand management decisions and develop marketing messages.
"I think it's fantastic that the research has such a direct link to industry and that I can see how the outcomes of the research are going to be used," says Ms Kleinschafer, who expects there will be future opportunities to work with both the findings and Country Energy. The findings have also been presented to the Department of Climate Change's Energy Efficiency Task Force earlier in the year, who are using the findings to inform communication strategies.