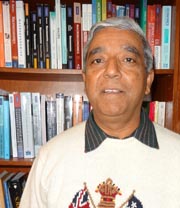 A leading business and economics academic at Charles Sturt University (CSU) will be remembered for his generosity of spirit and time for his colleagues and friends at CSU, in Bathurst and around the world.
Associate Professor Parikshit Basu, known to all as PK, passed away last Friday after a long illness.
The academic's good friend, close colleague and former Dean of the Faculty of Business at CSU, Professor John Hicks, remembers PK as an extremely generous person who enjoyed working with others.
"PK approached research projects with great enthusiasm, they were never a chore, and he was always willing to initiate and drive them," Professor Hicks said.
"As a collaborator, he had a happy knack of finding and finding uses for data, particularly where it helped drive economic development in the regions.
"PK believed passionately in the important place of regional economic development, whether it be in in Australia, India and China."
Professor Basu was a successful researcher in applied economics and applied finance and had numerous books, books chapters, journal articles and reports as a sole and co-author. He was a member of three large multi-university research projects funded by the Australian Research Council and AusAID. He also successfully supervised a number of doctoral research students.
He also touched the professional careers of many people at CSU.
"PK had time for everyone. He made a difference in many lives and supported everyone in the Faculty of Business." Professor Hicks stated that PK generated much love and affection, even having a colleague visit from Switzerland to see him in his last months.
Professor Basu left the corporate world and joined CSU in 2001. A respected teacher of finance and economics, he effectively engaged with his students. His easy rapport with students was recognised when he was appointed Faculty Subdean of Students in 2011, while his last promotion was to Associate Professor in 2013.
Professor Hicks said PK never missed the business world. "He loved teaching and expanding minds to the business world. To that end, he organised overseas trips for our business students to India, China and Europe to present them experiences that would widen their horizons."
Professor Basu travelled extensively and loved immersing himself in different countries and cultures, "especially their sweets!" Professor Hicks said.
Well known in the Bathurst community, he also often acted as Head of Campus as required between 2007 and 2013, and so made many local contacts.
A strong family man, Professor Basu was devoted to his wife and son and daughter. "I think he was the happiest I had seen him for years at his daughter's recent wedding, when he already knew he was dying. He just wanted to be there.
Professor Basu is also remembered for seeing the importance of social activities for his work colleagues.
"So many people, from professors to general staff, from Bathurst and most other CSU campuses, have said to me, 'What a great guy'."PK will be sorely missed at CSU.