A national snapshot into work-life balance practices in Australian small and medium enterprises has revealed fascinating insights into the needs and desires of employees and provides businesses with strategies in keeping employees motivated and happy.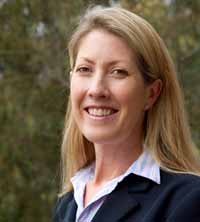 The research, involving 219 managers or owners of small and medium enterprises (SMEs), was conducted by Charles Sturt University (CSU) PhD student, Ms Stacey Jenkins from the
School of Management and Marketing
in Wagga Wagga.
In her research, What's up down under in the Barbeque Stopper Debate? Measuring the impact of Work Life Balance practices in Australian Small and Medium Enterprises, Ms Jenkins examined four key areas:
flexible work options such as flex-time;
leave programs including paid maternity and paternity leave;
support benefits such as employee assistance providers;
care arrangements ranging from on-site child care to breast feeding.
Ms Jenkins said, "Overall, the research showed that each of these issues had a direct and positive impact on work-life balance.
"Though there are a plethora of work-life balance practices that have been offered by small and medium businesses in the past, this the first time these particular factors have been shown to be successful and responsive to employees, wanting to adjust their work life imbalances."
"The findings of this study justify any managerial decisions to adopt and legitimise these work-life balance practices."
Senior Lecturer in Management at the School of Management and Marketing at CSU in Wagga Wagga, Dr Ramudu Bhanugopan, said the results of the study were interesting and astounding.
"This research assists managers who want to redesign the existing job structures of employees who suffer work-life imbalances," he said.
"By offering these work-life options, employees respond more positively, leading to a stronger relationship between managers and employees.
"In fact, this is an alternative route to employee satisfaction and it also helps to modify the context of work in terms of organisational support to stop employees taking too many sickies or even leaving the organisation altogether."
Lecturer in management at the School of Management and Marketing, Dr Pamela Matthews said, "With the pressure for more organisations to recognise work-life balance as a major concern the combination of limited resources and organisational constraints makes it increasingly important for organisations to offer work-life balance options that are addressing both employee and organisational needs. Identifying work-life balance practices that are effective, in addressing work-life balance issues is a first, but crucial step."
The research also uncovered that the age of a small or medium sized enterprise wasn't related to whether or not work-life balance practices were offered. However, it did show that there is a significant relationship across industries that do offer work-life balance practices.
Importantly, family businesses were less likely to offer work-life balance practices compared to other businesses. Maternity and or paternity leave programs were also less likely to be offered in small and medium enterprises because it is not a financially feasible option but, Ms Jenkins found, that is likely to change in the future.
Ms Jenkins said, "Given that larger companies, such as Caltex and Insurance Australian Group Limited (IAG) have just started to offer generous paid parental leave schemes to attract and retain women, this is a sleeping giant within the Australian economy."