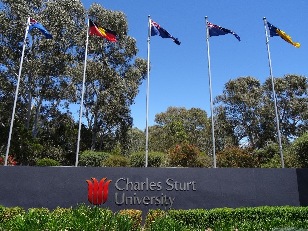 A major regional economic development conference will be held at Charles Sturt University (CSU) in Bathurst from Tuesday 20 to Thursday 22 October.
The Sustainable Economic Growth for Regional Australia (SEGRA) conference will see more than 200 people from across regional Australia arrive in Bathurst to ensure the issues that make regional Australia a vital part of our nation are heard.
CSU Vice-Chancellor Professor Andrew Vann said, "It is appropriate that this significant national conversation is taking place in Australia's oldest inland European settlement and is hosted by Charles Sturt University, the largest regionally-based University in Australia".
SEGRA is Australia's premier regional conference and is recognised as Australia's most credible independent voice on issues affecting regional Australia. The 2015 SEGRA Conference will bring together leading economists, environmentalists, educators, government representatives, and business and opinion leaders to discuss a range of topics.
SEGRA Conference convenor Ms Kate Charters said, "SEGRA's vision is to promote regions and regional issues, and empower regions to lead their own futures. We can secure a sustainable future for rural, remote and regional Australia through knowledge, collaboration, leadership and investment.
"Issues to be discussed include: a healthy environment and productive economy; labour markets, towns and cities as part of regions; and factors influencing the success of regional business and industry, leadership, and diversity."
More than 90 invited speakers will participate in SEGRA panels, hypotheticals, and challenge pitches, to ensure a comprehensive national conversation is held on issues affecting the future of regional Australia. Speakers include Major General The Hon. Michael Jeffery, AC, DVG, MC; Professor Max Finlayson (CSU Institute for Land, Water and Society), Dr Michelle Evans (CSU); Mr Don Burke, OAM; Professor Darryl Low Choy (Griffith University), Ms Emma Bradbury (Murray Darling Association); and Mr Anthony Friday (Pilbara Regional Council).
Register here to attend the 2015 SEGRA Conference. For more information, contact conference convenor Ms Kate Charters on 0408 882 871.