A highlight of Charles Sturt University (CSU)'s 25th anniversary will take place on Thursday 9 October with the lighting of a virtual birthday cake to celebrate the milestone.
The Heads of CSU campuses in Albury-Wodonga, Bathurst, Dubbo, Orange, Port Macquarie and Wagga Wagga will light a virtual birthday cake at 12.30pm.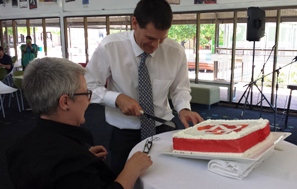 CSU Vice-Chancellor Professor Andrew Vann said 2014 has been an opportunity to reflect on how far the University has come as a higher education institution.
"Since 1989, we have expanded from a three campus regional institution to a national and international university with a presence in NSW, the ACT and northern Victoria. CSU delivers quality education to more than 38 000 students from across Australia and around the world either on campus or by distance education."
"A main function of the University has been to provide education and conduct research to meet the needs of the community.
"The University has continued to focus on these needs throughout the past 25 years, supporting and growing our regional communities through:
- contribution to regional employment and gross regional product
- increased participation of Indigenous and low SES students and staff
- producing highly skilled professional graduates for underserviced skill areas in regional and rural communities
- successful research that influences and informs our communities, the professions and others
"As we look to the future, we strive to be a University whose courses, graduates and research help our regional communities to thrive and prosper economically, socially and environmentally and to improve the educational outcomes and lives for Indigenous, regional, rural and remote Australians."
The Virtual 25th Birthday Party will mark the end of social media competitions which have been held over the past 25 days for CSU students and Alumni.
CSU's origins date back to 1895, with the establishment of the Bathurst Experiment Farm. With the progressive mergers of regional institutions in regional NSW - Mitchell College of Advanced Education and the Riverina-Murray Institute of Higher Education - CSU was formally incorporated on 19 July 1989 under the Charles Sturt University Act 1989. Read more about CSU's history here.