Raise a glass and toast Charles Sturt University (CSU) celebrating 40 years of educating professionals for the wine industry.
Loading...
The milestone will be marked on Friday 27 November with an afternoon of recollections, campus tours and celebratory dinner at CSU in Wagga Wagga.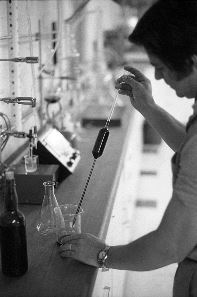 The first wine science degree was offered at CSU's predecessor institution, The Riverina College of Advanced Education (RCAE), in 1975 to provide greater training opportunities for oenology and viticulture.
CSU Professor of Viticulture Chris Steel says more than a thousand graduates from the program are currently working in the Australian and international wine industries.
"Charles Sturt University is proud of its long history of applied wine science education," he said. "Most of our students are already working in the industry in some form or another and through online study they are able to upgrade their professional qualifications and skills.
"If we want to make our wine industry as competitive as we can then the greater the knowledge the winemaker or vineyard manager has, then the better the grapes they will grow and the better wine they will make.
"The integration of the latest research findings into our teaching is another feature of the program."
One of the early lecturers and course coordinator Dr Tony Jordan said there was a pent up demand in the wine industry in 1975 for a degree course with good technical depth.
"Amongst the early student intakes were well established winemakers and brewers who already had tertiary qualifications and were keen to extend their training to an oenology and viticulture degree," he said.
"This certainly kept young lecturers, like me, on our toes and the enthusiasm and energy amongst students and staff was palpable.
"Even in the early days the ability to study by correspondence, or online as it is today, meant the program was ideally suited to those working in the industry.
"You could say that the start of wine science education at Charles Sturt University was dynamic and led to a lift in the standard of wine and viticulture education in Australia."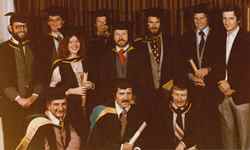 Wine industry strategist and CSU Deputy-Chancellor, Mr Peter Hayes was one of the first students enrolled in the program.
"My studies delivered a very wide range of long-lasting contacts and a very credible and reputable applied science qualification," said Mr Hayes.
"It also provided an entrée to further study overseas and access to a wide range of excellent industry connected roles in state government and national and international organisations."
The flexibility of online study is still a key feature for students like Bachelor of Wine Science student Mr Zach Main, who is an assistant winemaker at Angove Family Winemakers.
"Studying while working in the industry can be challenging, particularly during vintage, but the benefit of learning academically about wine and wine science while experientially gaining knowledge about how to make wine is invaluable," he said.
"My study at Charles Sturt University is giving me a foundation of solid winemaking skills which I will be able to use now and in the future. As my experience grows I hope to build upon that foundation and express myself creatively through the wines I make."
Today CSU offers a Bachelor of Viticulture, a Bachelor of Wine Science, a Bachelor of Wine Business and a Master of Viticulture and Oenology through its School of Agricultural and Wine Sciences.
This complements the world-class research carried out through the National Wine and Grape industry Centre in plant pathology, vine physiology, fruit development, fruit and wine composition, sensory characteristics and consumer preference of wine.