Academic leader Professor Sue Thomas has joined Charles Sturt University (CSU) as Deputy Vice-Chancellor (Research).
Having specialised as a researcher in the genetics and molecular biology of bacteria, she now manages the team that drives CSU research strategy. She will be based at CSU at Wagga Wagga and is keen to encourage interdisciplinary research.
"Interdisciplinary research allows you to dream on a broader basis – you can contribute part of the solution and start defining problems on that basis rather than looking at an issue just within a discipline.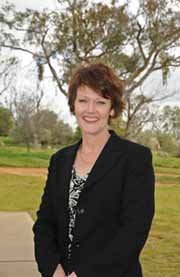 "CSU has an identified research profile which promotes excellence at national and international level and some of that research is applicable to the regional areas which the University serves. "I'm looking forward to assisting and facilitating researchers to increase their educational opportunities and experiences regionally and beyond."
Professor Thomas' responsibilities include administering research and research training and she heads the University's
Centre for Research and Graduate Training.
The centre helps enhance CSU's research performance, profile and culture. It also facilitates positive learning experiences for research students leading to successful completions and oversees consultancies, commercialisation, intellectual property and outside profession activity.
Vice-Chancellor and President, Professor Ian Goulter, welcomed Professor Thomas to the University.
"She is an outstanding academic leader having worked researched and taught in Australia, USA, and the UK. Her professional experience demonstrates a strong commitment to excellence in research, which is part of CSU's mission."
Professor Thomas has been involved in research of educational leadership in higher education and in the pedagogy of science in universities.
She holds a Bachelor of Science with Honours and a PhD in non-clinical Microbiology from La Trobe University as well as a Master of Business Administration (Technology Management) from Deakin University/APESMA and a Graduate Certificate in Tertiary Education from Flinders University. She has worked at Princeton University in the US, the Medical Research Council in the UK and Flinders University.
Professor Thomas comes to CSU from the University of Canberra where she was Pro Vice-Chancellor (Research).