The support that Charles Sturt University (CSU) provides to rural and remote students studying online has been recognised with a national award.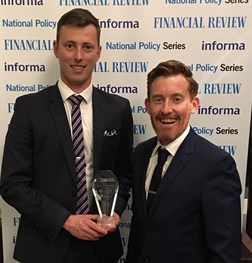 CSU won the Equity and Opportunity category at the Australian Financial Review Higher Education Awards in Melbourne last night.
The judges said, "Thanks to its superb Outreach team, Charles Sturt University truly leads the sector when it comes to improving educational access, opportunities and outcomes for students from regional and remote areas, still one of the most disadvantaged and underserved groups in Australia."
The CSU Office for Students Outreach team regularly travels to more than 60 locations, both in rural Australia and major metropolitan cities, delivering innovative face-to-face workshops and individual appointments designed to help students with any issues they may be facing.
Over the past last five years, the team has conducted more than 600 visits, meeting with well over 3 000 students.
Manager of CSU's Outreach team, Mr Peter Greening, said "It's an honour to receive this award and credit has to go to my team, who travel across the country and engage with students on a wide range of issues in a friendly and supportive manner."
One of the unique approaches pioneered by CSU is online support to students linked to a priority contact listing, which uses accumulative student data to highlight signs of disengagement.
CSU director of engagement, Mr James Brann, said, "It's a fantastic achievement to be recognised as a national leader in improving the engagement, educational outcomes and opportunities for rural and remote students.
"Charles Sturt University aims to ensure that regardless of where you live, you can be successful at University."
CSU Dean of Students, Professor Julia Coyle, said, "At the heart of Charles Sturt University's approach to education is the Wiradjuri phrase Yindyamarra Winhanganha - the wisdom of respectfully knowing how to live well in a world worth living in.
"We strive to provide educational opportunities that will make a real difference to the lives of our students and our communities more generally.
"As Australia's most experienced online University we understand that supporting students throughout their study helps them be successful.
"The University has a strongly inclusive approach, and is proud that the Outreach team, which is dedicated to raising success rates of equity group people, has been recognised with this significant award."
The AFR Higher Education awards were presented in Melbourne on Wednesday 16 November as part of the Higher Education Summit.