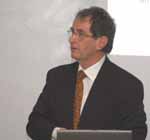 Exceeding the call of his profession is how the NSW Minister for Primary Industries Ian Macdonald described Professor Geoff Scollary as he awarded the Charles Sturt University (CSU) academic the prestigious
Graham Gregory Trophy
for 2007.
Mr Macdonald recently named Professor Scollary as the recipient of the significant industry honour for his contribution to the wine sector through his research and development work and liaison at a regional, state and national level.
Appointed as a Professor of Wine Science in 1997, Geoff Scollary was Director of the National Wine and Grape Industry (NWGIC) at CSU Wagga Wagga Campus for ten years until 2007.
He helped steer two years of negotiation to develop the $30 million research collaboration known as the Winegrowing Futures Initiative.
Signed in 2007, the initiative brings together, through the NWGIC, a critical pool of viticulture and wine science expertise from CSU, the NSW Department of Primary Industries (DPI) and the NSW Wine Industry Association, working with the Grape and Wine Research and Development Corporation, the Australian Government's wine industry research and development investment body.
"He has exceeded the call of his profession," said Minister Macdonald.
"He played a lead role in managing the relationship between CSU, the DPI and the NSW Wine Industry Association, and has overseen the efforts of research and extension staff, as well as research students at the NWGIC," said Mr Macdonald.
CSU Vice-Chancellor Professor Ian Goulter has also paid tributed to Professor Scollary.
"The fact our graduates of winemaking, wine science and viticulture are in high demand in Australia and around the world is a testament to the work of Professor Scollary, as is CSU's reputation as one of the nation's leading wine extension and research centres," said Professor Goulter.
"I am honoured by the award of the Graham Gregory Trophy, especially as I am the first academic to receive the award," said Professor Scollary.
"The creation of the NWGIC over the last 10 years has been a fascinating journey for me".
The trophy is named after the former NSW Agriculture Deputy Director-General Graham Gregory, who helped pioneer the NSW wine industry.