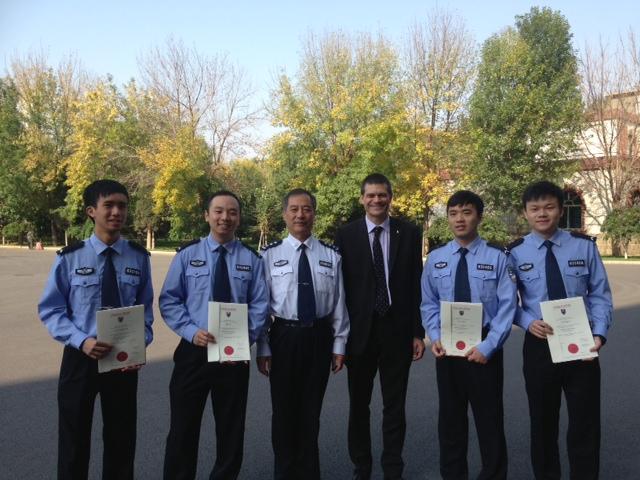 Charles Sturt University (CSU) Vice-Chancellor Professor Andrew Vann has personally congratulated a group of Chinese police officers on their graduation from the University's
Bachelor of Policing (Investigations).
Professor Vann and Professor Heather Cavanagh, Pro Vice-Chancellor International Education and Partnerships, attended a special graduation ceremony during a recent visit to China to discuss CSU's ongoing relationship with the Chinese Criminal Policing University.
Course Coordinator Mr Brian Daly said CSU had forged a strong international reputation as a provider of policing and security training, with courses available through the School of Policing, the AGSPS and the
Centre for Customs and Excise Studies
.
"The Bachelor of Policing (Investigations) is designed for serving police officers who intend to further their career as police investigators," he said.
"Normally students study through distance education, but this group of students travelled here to stay and study in Sydney and Bathurst."
Mr Daly said demand for the course had grown as policing services in China became progressively more engaged with Western policing methods and techniques.
"This course gives international students exposure to Western policing practices but, more than that, it gives them a broader perspective on their work," he said.
"Students see the differences in investigation practices and methods, they learn about community policing, and they take new skills back to their work at home."
Mr Daly said the course was relevant to a range of jurisdictions and covered evidence, accountability and ethics, investigation, intelligence, and investigation management.
Students could then study electives which expanded on current and emerging policing investigation areas such as terrorism, organised crime and forensic science.