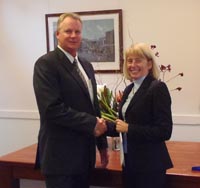 Charles Sturt University (CSU) and Western Australia Police have joined forces to recognise the qualifications and experiences gained by WA Police officers towards three CSU qualifications.
The mutual benefits for both organisations were recently recognised with the signing of a formal agreement on 24 July in Sydney by Associate Dean for Policing in CSU's Faculty of Arts, Associate Professor Tracey Green, and WA Police Assistant Commissioner (Professional Development), Mr Gary Dreibergs, APM.
"Both organisations have worked together for some time to formally recognise the professional tertiary level training, experience and assessment that Western Australian Police officers undertake as part of their ongoing career development programs," said senior policing academic in CSU's
School of Policing Studies
, Mr Brian Daly.
"We also acknowledge and applaud the intensive operational and management training that senior and middle level Western Australian Police officers have received to date," Mr Daly said.
"WA Police have recognised the value of Charles Sturt University policing qualifications, and will promote those programs to their officers as study options and further opportunities for their professional growth.
"We look forward to seeing greater numbers of WA Police officers joining our courses, and bringing their experiences from their unique policing environment."
These courses will now be available to WA Police officers via distance education They join the NSW, Queensland, Northern Territory and Australian Federal police forces which all have formal agreements with CSU for providing quality and relevant education for their officers.