An innovative Charles Sturt University (CSU) Indigenous mental health training course and six CSU inspirational academic staff are celebrating after gaining prestigious national awards in teaching excellence.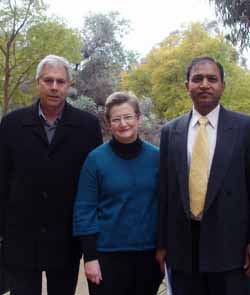 The 2008 Citations for Outstanding Contributions to Student Learning are awarded by the Australian Learning and Teaching Council, an initiative of the Department of Education, Employment and Workplace Relations (DEEWR) to celebrate and reward excellence in university teaching.
CSU Vice-Chancellor Professor Ian Goulter said the awards are tremendous for our University teachers. "A core mission of this University is to promote and advance learning and teaching and these staff demonstrate our national standing in this area.
"CSU continues to be an innovative national leader in the flexible delivery of quality learning and teaching with the citations also recognising CSU's leadership in international social work and social development education, providing students with a truly international perspective.
"The citations also recognise CSU's commitment to improving education opportunities for Indigenous Australians and the communities of inland Australia.
"The range of areas for which the Citations were made clearly demonstrate the breadth of ways in which student learning is promoted at CSU and the variety of experiences that exposure provides for our students," said Professor Goulter.
Citations were made for excellence in training indigenous mental health workers; for sustained innovation and dedication to graduate outcomes in radio and advertising; for creating and enhancing a nurturing learning environment for first year University students; for sustained enthusiasm and commitment across a range of courses; for innovation in on-line learning; for effective leadership in international social work and social development education; and for a professor who has dedicated two decades of exemplary contribution to the student learning experience.
2008 Australian Learning and Teaching Council winners from CSU are;
The
Djirruwang Program
–
For 14 years of successful education for Indigenous mental health students: respecting the integrity of indigenous and mainstream cultures and building the Indigenous mental health workforce.
Professor Joy Higgs
– For two decades of exemplary contributions that blend personal and research capabilities development to post graduate research training through supervision, mentoring, group learning and scholarship.
Associate Professor Manohar Pawar
– For demonstrating effective leadership in international social work and social development education, leading to enhanced learning and teaching resources, scholarly activities and professional development.
Mr Brett Van Heekeren
– For sustained innovation and dedication to university teaching using situated learning strategies to enhance learning and produce significant graduate outcomes in radio and advertising.
Dr Catherine Allan
– For creating and enhancing a learning environment that nurtures the development of environmental management students at the start of their university education.
Dr Deb Clarke
– For sustained enthusiasm and commitment to inspiring, influencing, and motivating tertiary students in a large range of subject, courses, modes and degree levels.
Dr Sue Wood
– For innovation and excellence in subject design and delivery in the on-line environment, leading to rich learning experiences for students.
In summing up the award success Professor Goulter said, "It is a deserved accolade for the staff for their dedication and achievements in providing a challenging and rewarding learning environment to all our students, on campus and through distance education.
"These staff and these programs, in which they are involved, are leading edge examples of innovation and commitment to students.
"We all remember a great teacher who has made a major contribution to your training and you life, these teachers and programs fall into this category." said the Vice-Chancellor.
The 2008 Australian Learning and Teaching Council Award winners received their citations on 5 August at the University of New South Wales John Niland Scientia Building, Sydney.