* CSU students and staff made 2,415 blood donations in 2018
* CSU blood donations saved 7,245 lives
* CSU ranked fourth in 2018 national university blood donations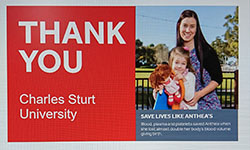 Blood donations by staff and students at Charles Sturt University (CSU) in 2018 saved 7,245 lives.
Figures provided by the Australian Red Cross Blood Service show that CSU personnel made 2,415 blood donations in the 2018 Red Cross Red25 Challenge across the University's regional footprint.
Nationally, CSU placed fourth behind larger metro-based universities for 2018 blood donations.
CSU Vice-Chancellor Professor Andrew Vann said, "I congratulate and thank all our students and staff who made donations and contributed to the 2018 Red25 Challenge.
"This is a practical demonstration of the University's motto 'For the public good', and two of its values of being impactful and inclusive. Well done to all our donors."
| | | |
| --- | --- | --- |
| CSU Campus | 2018 blood donations | Estimated lives saved |
| Albury-Wodonga | 282 | 846 |
| Bathurst | 425 | 1,275 |
| Dubbo | 53 | 159 |
| Goulburn | 66 | 198 |
| Orange | 246 | 738 |
| Port Macquarie | 244 | 732 |
| Wagga Wagga | 1,000 | 3,000 |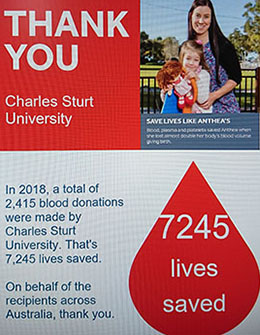 *** Please note that the discrepancy between total campus tallies (2,316) and the overall CSU total (2,415; difference = 99) is due to some donors being registered as 'CSU' but not allocated to a specific campus; their donations were added to the CSU all-campuses tally. Furthermore, the total for CSU in Wagga Wagga might be assisted by the permanent blood donation centre in Wagga Wagga, whereas other campuses rely on quarterly visits by Red Cross Mobile Blood Donation Vans.
All CSU staff and student donors are asked to check with Red Cross staff when next they donate to ensure that they are allocated to a specific CSU campus tally for the 2019 Intercampus Challenge which runs from 1 March to 1 July.
Mr John Feist, NSW/ACT Community Relations Officer with the Australian Red Cross Blood Service, said, "We would like to say a massive thank you to all the students and staff at Charles Sturt University for their fantastic efforts donating blood in 2018.
"To help save over 7,200 lives is an amazing achievement and everyone involved should be extremely proud.
"The patients and their families that have been helped by those donations will be forever grateful.
"We look forward to your continued efforts in 2019, let's see if we can save even more lives together this year!"