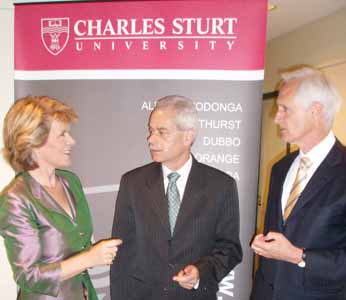 Charles Sturt University (CSU) Vice-Chancellor, Professor Ian Goulter, yesterday welcomed the opportunity to brief the Hon. Julie Bishop, MP, Federal Minister for Education, Science and Training, about progress with the establishment of the CSU School of Dentistry and Health Sciences.
Professor Goulter said that he was delighted to advise the Minister that the development of the $65 million school was advancing smoothly and that Professor Ward Massey, who is currently Associate Dean of Dentistry at the University of Maryland in Baltimore, USA, had been appointed as foundation Head of the School.
"The Minister was pleased to hear that agreement with the Federal Department of Health and Ageing had been finalised and signed, that two curriculum committees had been established, that there is a growing list of high quality candidates for faculty positions, and that expressions of interest for the design of facilities had been called for," he said.
The Minister was accompanied on her visit to CSU's Bathurst Campus by Mr Kerry Bartlett, MP, Liberal Party candidate for the new federal seat of Macquarie in the coming 2007 election.
Professor Goulter said an invitation had also been extended to the Federal Shadow Minister for Education and Training, Mr Stephen Smith, MP, to visit Charles Sturt University to discuss the University's agenda for inland Australia.