The newly appointed Dean of Studies at Charles Sturt University (CSU), Professor Ken Dillon, is passionate about getting the best for students - whether that's through developing pathways to education, improving curriculum or enhancing academic support.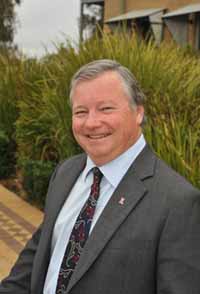 Professor Dillon has worked for CSU for almost 24 years and has held senior positions across four different Faculties.
He was a natural choice for the newly created Dean of Studies position, which oversees course quality, and academic learning support for students along with access, participation and pathway programs.
Professor Dillon takes great pride in his students and the role that CSU plays regionally, nationally and internationally.
"The motivation that drives me is sharing in the success of the students we see graduate," he said. "Every student has the capacity to make a difference, not only in their communities but in their chosen professions."
Professor Dillon hopes to build on CSU's track record in working with TAFE and other providers to facilitate greater access to a university education.
"Currently more than 25 percent of all undergraduate enrolments come to the University via a
TAFE pathway
, " he said. "This is an important way in which Charles Sturt University assists a number of regional communities and professions to meet labour force needs, while at the same time meeting the federal government's participation agenda."
He will also be responsible for overseeing Indigenous student services.
Professor Dillon was born and raised in Bathurst and after studying at Macquarie University in Sydney he worked as a school teacher in central and southern NSW.
He joined CSU in 1987 and was Head of the School of Information Studies in the Faculty of Science and Agriculture from 2000 until 2006.
He has also held the positions of Associate Dean of the Faculty of Arts, Associate Dean (Academic) in the Faculty of Education and most recently Acting Dean of the Faculty of Business.