If Charles Sturt University (CSU) dental science student Ms Donna Furler needs a reminder of why she is undertaking the five-year program, she need only reflect on her recent oral health work in East Timor.
A qualified oral health therapist from South Australia's Yorke Peninsula, Ms Furler is nearing the end of her first year of a
Bachelor of Dental Science
at CSU in Orange.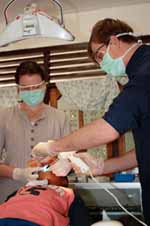 Accompanied by fellow dental science student Mr Paschal Grenquist from Byron Bay on the NSW North Coast, she travelled to the East Timorese district of Ermera in August to work alongside local health staff in a community health clinic.
"Paschal and I worked at the St Bakhita Community Health Clinic in the small, remote village of Eraulo," said Ms Furler. "Twelve Timorese health workers are responsible for the everyday running of this community health clinic.
"We were based in this village and spent most of our time working at the clinic with the local staff. We also visited three schools in the area and set up a clinic for local residents under a tree in a nearby village."
Ms Furler is no stranger to the central western district of Ermera, having worked as a volunteer with PALMS Australia in East Timor from October 2008 to October 2010.
"I was a volunteer at the St Bakhita Community Health Clinic as a dental program coordinator. The wonderful relationships I developed during my time with PALMS Australia drew me back to the village in August.
"I am very lucky to have made a connection with this community, and it's a bonus that I can provide a dental service, as an oral health therapist, while catching up with my friends and experiencing the rich culture and lifestyle of the Timorese people.
"We worked alongside the Timorese people, learning from each other and helping to build the capacity of the health workers through the transfer of skills and developing good relationships.
"Resources, standards and expectations in Australia are very different to those in East Timor, especially remote Timor. We worked with what we had available to us, transferred skills as best we could, and provided the best service possible with paramount care and respect for the Timorese people."
Mr Grenquist, in his second year at CSU in Orange, also worked alongside the health workers in the Clinic, providing oral health education, prevention strategies and scale and clean to the local community and school students.
He said, "I am familiar with the Bahasa language and neighbouring Indonesia and I have genuine interest in working in developing countries with disadvantaged groups.
"With a lack of dental and oral health services in East Timor, particularly in the remote regions, one of the main purposes of the trip was to educate the people about the importance of good oral hygiene. Although not formally part of my degree, it is an initiative that I wanted to be involved with as I felt I could provide a much needed service."
Ms Furler said, "My recent return to East Timor reminded me why I chose to study dentistry at Charles Sturt University. I would love to continue working in this country over the next four years and once I graduate as a qualified dentist. Studying can be challenging but the end result is going to be very rewarding."
The CSU student is a firm advocate of international study experiences.
"It's a wonderful experience that will help to identify the opportunities available to us in Australia. You will see first hand how much you can assist others with the skills you learn as a student at Charles Sturt University.
"With most experiences in culturally rich countries like East Timor, it's likely that you will receive much more than you give. Experiencing life where relationships are the most important aspect of life often forces you to answer difficult questions regarding our own culture and ways of life. This is an interesting experience in itself."
The students each received a $500 Vice-Chancellor Travel Grant through
CSU Global
. They travelled to East Timor from Saturday 20 August to Wednesday 31 August 2011.
By supporting a range of programs,
CSU Global
aims
to significantly increase the number of CSU students undertaking international experiences as part of their studies.