Text books donated by a Charles Sturt University (CSU) academic are set to make a huge difference to dental students in Cambodia.
Oral health is a key issue in this developing nation with a ratio of one dentist for every 33 000 people.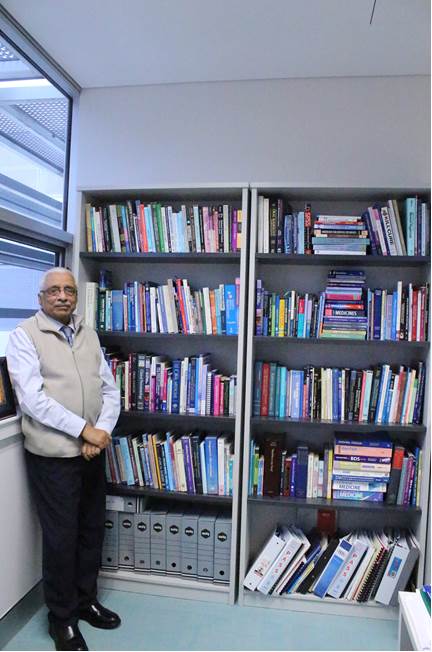 Senior lecturer at CSU's School of Dentistry and Health Sciences in Orange, Dr SR Prabhu (pictured) has donated more than 200 dental and medical books to the University of Puthisastra Dental School in the Cambodian capital, Phnom Penh.
"The dental school at the University of Puthisastra is one of only two in Cambodia and plays an important role in addressing the shortage of dentists," said Dr Prabhu.
"But there's an acute shortage of dental equipment, materials and teaching staff. The University doesn't have spare funds to buy books for the library. Most students also face financial difficulties and can't afford to buy their own books.
"After reading about the Cambodian dental schools and talking with colleagues I decided to donate these books from my personal collection."
Most of the books have been posted to Cambodia with funding from the Sydney University Dental Association (SDUA), the Australian Paediatric Association and the Australasian Section of the International College of Dentists (ICD).
"Transporting these books would not have been possible without the external funding support," said Dr Prabhu.
The remaining books will be hand-delivered by CSU dental science and oral health students when they visit Cambodia next week.
The nine Bachelor of Dental Science students from CSU in Orange and three Bachelor of Oral Health (Therapy/Hygiene) students from CSU in Wagga Wagga will spend a fortnight in Cambodia providing much needed dental care to the rural communities and school children.
They'll be accompanied by Orange dentist Dr Graham McLennan, who led a similar international study experience last year.
"In 2015 the Charles Sturt University students worked with a local organisation, One2One, to extract 679 teeth, carried out 308 restorations and over 1 000 fissure sealants in supervised clinics for school children and adults," said Dr McLennan.
The international study experience is one of many programs supported by CSU Global. The students are each eligible to receive a $500 Vice-Chancellor Travel Grant.