Four emerging Papua New Guinea (PNG) scientists have begun a Charles Sturt University (CSU) training program designed to address a critical shortage of veterinarians in their country.
The four science graduates are undertaking a three-month program at CSU in Wagga Wagga to further develop their diagnostic skills and understanding of animal health.
Dr Andrew Peters, a veterinarian and lecturer in the University's School of Animal and Veterinary Sciences, has made numerous trips to remote parts of PNG for his PhD research into parasite infections in Australasian pigeons.
He said there was an urgent need for animal health expertise in PNG.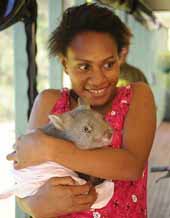 "Despite having a population of six million people, many of whom are highly dependent on wild and domestic animals for food and other materials, PNG has only three national veterinarians," Dr Peters said.
"My colleague Professor Shane Raidal and I are attempting to improve the skills shortage by developing the animal health capacity of scientists already working in PNG."
The visiting scientists familiarised themselves with Australia by floating down the Murrumbidgee River at Wagga Wagga during a summer heatwave. While not impressed by the heat, Ms Tania Areori praised the local community as "very friendly and very welcoming".
Their field work has included a trip to Murramarang National Park on the NSW south coast where they took blood and other samples from wildlife for testing at CSU's Veterinary Diagnostic Laboratory.
The group also visited the Healesville Sanctuary east of Melbourne and The University of Melbourne. They also plan a trip to Australian desert landscape in the Yathong Nature Reserve in the NSW central west.
Dr Peters said, "The PNG scientists undertake all the diagnostic tests from start to finish. We are also exposing them to as many different Australian wildlife and landscapes as possible during their time here."
The program is supported by the Graham Centre for Agricultural Innovation – a collaborative research alliance between CSU and NSW Department of Primary Industries; the Australian Government's DAFF Wildlife Exotic Disease Preparedness Program; and CSU through its School of Animal and Veterinary Sciences and CSU Global's Student Exchange Program.
The science graduates come from four different provinces of PNG:
- Ms Areori is from Madang province. She has completed a Bachelor of Science at the University of PNG (UPNG), with her Honours project looking at nesting range and characteristics of a type of possum, Silky Cuscus. She is interested in doing veterinary science.
- Ms Heather Taitibe is from the province of Milne Bay and has also done a Bachelor of Science at UPNG, focusing on frog ecology and the impact of climate change on Manus Island. She is particularly interested in postgraduate study into reptiles and amphibians known as herpetology.
- Mr Daniel Solomon is from the Eastern Highlands and, having completed a Bachelor of Science (Forestry) at the University of Technology in Lae, is currently undertaking a Bachelor of Science Honours program at UPNG, focusing on anthropogenic threats and traditional use of Long-beaked Echidnas in the PNG Highlands. He would like to further investigate the biogeography of the various Long-beaked Echidna species of New Guinea.
- Mr Wallace Takend, from East Sepik province, has also completed a Bachelor of Science at UPNG and now works as an intern biologist for the Wildlife Conservation Society and is currently studying the factors affecting the abundance of the threatened marsupial Admiralty Cuscus in three villages of Manus Island.
The group arrived at CSU in Wagga Wagga on Monday 20 January and are due to leave on Friday 11 April.
This follows a similar program in 2012 when CSU and Dr Peters hosted another emerging scientist from PNG, Mr Sinafa Robby. He is now a senior researcher in zoonotic and emerging diseases at the PNG Institute for Medical Research. He also assisted the CSU academics with a week-long wildlife health workshop in the PNG Highlands last year.