A Charles Sturt University (CSU) student has shared the stage with Minister for Foreign Affairs, The Hon. Julie Bishop MP during a ceremony in Canberra to receive a prestigious scholarship to study overseas next year.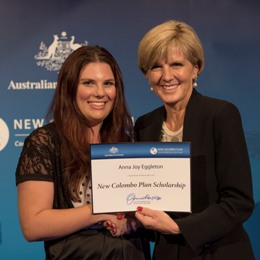 Bachelor of Environmental Science and Management student Ms Anna Eggleton from Tumbarumba was awarded a New Colombo Plan (NCP) scholarship on Tuesday 2 December by Minister Bishop to attend Ritsumeikan Asia Pacific University in Japan in 2015.
CSU Global Manager, Dr Shevahn Telfser said, "Anna is one of only 69 Australian undergraduate students to receive a 2015 New Colombo Plan scholarship.
"We are very proud that Anna was awarded the scholarship, valued at up to $23 000, by the Australian Government. She has excelled academically and she will be a great ambassador for Charles Sturt University and Australia."
Ms Eggleton has completed the first year of her degree through the School of Environmental Sciences at CSU in Albury-Wodonga. Her study trip to Japan for eight months from next July will be the student's first trip overseas.
"I am extremely grateful to be given this opportunity to be involved in such a rewarding and prestigious program," Ms Eggleton said.
"The scholarship will allow me to network extensively in the region as well as allow me to immerse myself in a rich cultural environment.
"While abroad, I want to do intensive language training in Kyoto, an internship in the environmental non-government sector and study for one semester at the Ritsumeikan Asia Pacific University in the city of Beppu."
Ms Eggleton's application for a NCP scholarship was supported by CSU Global, which aims to promote international study experiences for CSU students. Read more international study opportunities in CSU News here.
The NCP scholarship is awarded to Australian undergraduate students to assist them to study overseas in the Indo Pacific region. It is an initiative of the Australian Government. Read more here.