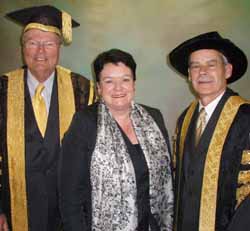 Bathurst will experience a surge of over 4 500 visitors as friends and family members come to the city to celebrate the graduation of nearly 1 900 students from Charles Sturt University (CSU).
Undergraduate and postgraduate awards will be presented at six ceremonies over three days – Wednesday 7, Thursday 8 and Friday 9 May – at the CD Blake Auditorium on CSU's Bathurst Campus. The ceremonies will be lead by CSU Chancellor, Mr Lawrence Willett, AO.
Stories from the graduations ceremonies include:
Wednesday 7 May, starting at 10.30am – Faculty of Business
· The Occasional Address will be delivered by Mr Warren Pearson, director of the National Australia Day Council. Mr Pearson will speak about his work with the Australian of the Year Awards and the range of amazing Australians he meets and the one quality which unites these extraordinary Australians – their enormous positive energy. Harnessing and promoting positive energy will be his challenge to the new graduates.
· Mr Pat Bradbery is a Kamilaroi man from the north west of NSW who is Director of CSU's Professional Development Unit. Mr Bradbery has lived in Bathurst for 13 years and is the first Indigenous person to receive a Doctorate of Business Administration (DBA) from CSU's Faculty of Business.
Wednesday 7 May, 2.30pm – Faculty of Science
· The Occasional Address will be delivered by Professor Nick Klomp, Dean of Faculty of Science at CSU.
· A Japanese nursing student will travel to Bathurst to combine his honeymoon with his graduation at Charles Sturt University (CSU). Mr Tetsuya Isaji studied nursing at CSU Wagga Wagga Campus several years ago, and returned to CSU to undertake his second degree, a Bachelor of Health Science (Honours). His thesis title is New Bushido Health Promotion: The Model of Japanese Men's Health. Tetsuya says the concept of gender health is almost non-existent in Japan. "I had not learned gender health in Japan and I thought it was important to study men's health as a male nurse. Unfortunately, there are no men's health courses in Japan. Then, I heard I could study men's health in the Honours course at CSU."
· Ms Carolyn Beattie graduates with a Bachelor of Nursing with distinction after studying by distance education and previously working as an enrolled nurse in the Hunter Valley, NSW. This mother of four boys – one of whom commenced at CSU Bathurst Campus this year studying computer science – lives on a large cropping property that her husband manages. The property is 40 kilometres from the small township of Meandarra, in the western Darling Downs of Queensland, about three hours west of Toowoomba.
Thursday 8 May, 10.30am – Faculty of Education
· The Occasional Address will be delivered by Ms Sharan Burrow, President, Australian Council of Trade Unions, and former Bathurst resident. Ms Burrow will speak about will speak about the growing importance of education, workforce skills and life-long learning for economic and social development, and the role of graduates as they enter the workforce and begin to shape the nation's future.
Thursday 8 May, 2.30pm – Faculty of Education
· The Occasional Address will be delivered by Mr Kurt Fearnley, Paralympian and CSU graduate, who will talk about the importance of recognising choices and achieving dreams.
· Ms Deborah Munns has lived in Bathurst for five years and is graduating with distinction in the Graduate Diploma of Education (Secondary). She is currently working as a researcher at CSU's Western Research Institute.
Friday 9 May, 10.30am – Faculty of Arts, and Faculty of Business
· The Occasional Address will be delivered Sister Pat Linnane, a Sister of Mercy from Bathurst, who will also receive an Honorary Doctorate from the University in recognition of her contribution to suicide prevention, reconciliation between Indigenous and non-Indigenous Australians, refugee support and resettlement, mental health support, and prisoner release and inmate family support programs in Central Western NSW.
· After 11 years living and studying psychology at Charles Sturt University (CSU) in Bathurst, Dr Izumi Hiramatsu will graduate with a research doctorate from the Faculty of Arts. She declares, however, that her happiest achievement is her two beautiful sons that she had during this time.
Friday 9 May, 2.30pm – Faculty of Arts
· The Occasional Address will be delivered by Mr Hamish McDonald, presenter and English correspondent for Aljazeera based in Kuala Lumpur, who graduated from CSU in 2002. He will talk about his experience working as for Aljazeera in Asia and the Middle East, including Afghanistan, Malaysia, China and East Timor, and about the opportunities for young people working in the new media environment. In February 2008 he was awarded the 'Young Journalist of the Year' award by the British Royal Television Society.
Two graduates from the School of Communication have been working as journalists in the Central West for nearly a year already. Kelso High School graduate
Ms Miriam Siers
has worked at the Bathurst-based
Western Advocate
newspaper since August 2007, while
Mr Hugh Whitfeld
works for Prime TV News, based in Orange.