A research career focused on developing ecologically based strategies to combat pests will be recognised when Charles Sturt University (CSU) Professor Geoff Gurr is awarded a Doctor of Science on Tuesday 15 December.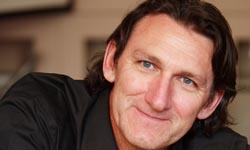 The higher doctorate is awarded in recognition of a substantial, original and sustained contribution to scientific knowledge beyond that required for a PhD. It's only the second time the award has been presented in CSU's history.
Professor Gurr from CSU's School of Agricultural and Wine Sciences in Orange is a world expert on biological pest control and has published more than 120 research papers.
He's worked widely in Australasia and East Asia to develop ecological approaches to pest control and reduce farmers' dependence on pesticides.
Professor Gurr said, "Part of the reason I am so thrilled with this award is that it highlights the real-world significance of the work I have been leading.
"Ecological approaches require an understanding of pest biology ranging from its genes to the effects of landscape and offer huge scope to control pests.
"This provides a sustainable route to meeting the growing needs of humans; working with nature and natural principles rather than relying on synthetic and non-renewable inputs.
"Our recent work in rice, for example, has shown that we can enhance biological control of pests to the extent that yields are increased at the same time as reducing the need for insecticides by 70 per cent."
In 2014, Professor Gurr was awarded a 1 000 Talents Fellowship by the Chinese government. The $2 million fellowship allows him to investigate the ecology of some the world's most important agricultural pests and the beneficial insects that can help to keep them in check.
One such pest is the diamondback moth, the world's most serious pest of cabbage and other brassica vegetables, as well as oilseeds like canola.
Professor Gurr's collaboration with Chinese colleagues has led to the genome (genetic 'blueprint') of the diamondback moth which was published in 2013 in the prestigious international journal, Nature Genetics.
"Since that landmark paper, we have been using this genomic information to explore more deeply what makes this pest tick and how we can control it more effectively," Professor Gurr said.
The CSU academic is a Fellow of the Royal Entomological Society and a member of the Graham Centre for Agricultural Innovation, a research collaboration of CSU and NSW Department of Primary Industries.