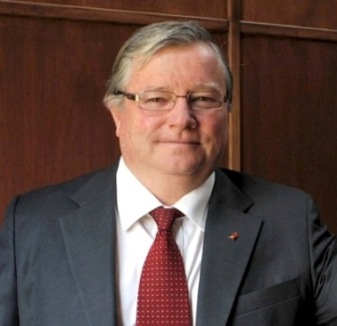 More than 200 people from across Australia will attend a major regional economic development conference at Charles Sturt University (CSU) in Bathurst next week.
CSU Vice-Chancellor Professor Andrew Vann will welcome participants to the Sustainable Economic Growth for Regional Australia (SEGRA) conference which runs from Tuesday 20 to Thursday 22 October.
Professor Vann's welcome will precede the plenary session he will chair at 11am on Tuesday at which he will speak on 'Leadership: what does it mean, how is it evidenced, advocacy and lobbying'.
Commenting while the Vice-Chancellor is overseas this week on University business, Acting CSU Vice-Chancellor Professor Ken Dillon (pictured) said, "The SEGRA conference will ensure that the issues that make regional Australia a vital part of the nation are heard.
"More than 90 invited speakers will participate in SEGRA panels, hypotheticals, and challenge pitches, to ensure a comprehensive national conversation on issues affecting the future of regional Australia.
"There will be presentations by experts and leaders on a range of vitally important topics, including several by academics from the University's Institute for Land Water and Society (ILWS).
"Of particular relevance and importance, the conference will present information on the Regional Collaborative Investment Summit, and workshops on Free Trade Agreements which will feature a presentation from the Assistant Secretary, FTA Outreach Unit at the Department of Foreign Affairs and Trade (DFAT)."
Professor Dillon noted that the conference will include a Business Breakfast at 7am Wednesday 21 October with The Hon. Julie Collins MP, Shadow Minister for Regional Development and Local Government. The Conference Dinner and SEGRA Short Film Festival at 7pm Wednesday 21 October at Rydges (Mount Panorama) will be attended by the Deputy Prime Minister, Mr Warren Truss, and Member for Calare Mr John Cobb, MP.
"The 2015 SEGRA Conference will promote the significant role that individuals and institutions in regional Australia play in the development of the nation to ensure its future prosperity," Professor Dillon said.
The full SEGRA Conference program is here: http://www.segra.com.au/segra_prog.html
Register here to attend the 2015 SEGRA Conference. For more information, contact conference convenor Ms Kate Charters on 0408 882 871.
Other speakers at the conference include Professor Max Finlayson (CSU Institute for Land, Water and Society), Dr Michelle Evans (CSU); Mr Don Burke, OAM; Professor Darryl Low Choy (Griffith University), Ms Emma Bradbury (Murray Darling Association); and Mr Anthony Friday (Pilbara Regional Council).