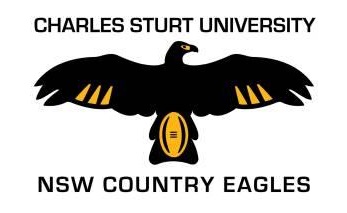 The Charles Sturt University (CSU) New South Wales (NSW) Country Eagles shape up as a force to be reckoned with in the 2015 National Rugby Championship (NRC) which kicks off today.
The partnership between CSU and the Eagles, now in its second year, is designed to build higher education aspiration and opportunity in regional NSW and to provide current CSU students with opportunities for workplace learning.
CSU's Student Engagement Manager Mr Niklaus Granger said, "With active rugby teams at Charles Sturt University in Orange, Wagga and Bathurst, we are extremely proud to again be partnering with a team in the national competition.
"The Charles Sturt University NSW Country Eagles team is looking great for 2015 and many of the players have strong country connections which link back to CSU's regional centres and communities. In particular we're looking forward to watching captain of the Australian under 20's team and returning Eagle Andrew Kellaway who is likely to again be one of the NRC's leading try scorers.
"Last year the team captured the imagination of the University community and we look forward to cheering them on again. Hopefully this year they can go one better and make it to the grand final.
"We are all especially looking forward to the last game of regular playing season, which is an Eagles home game in Bathurst on 17 October. They can certainly expect a huge Charles Sturt University crowd on deck to watch them represent country rugby and take on the North Harbour Rays."
Students from CSU's School of Human Movement Studies will also be working with the CSU NSW Country Eagles as strength and conditioning trainers and students from the CSU School of Communication and Creative Industries are assisting with media and marketing.
At the CSU NSW Country Eagles season launch event on Wednesday 19 August Coach Darren Coleman said he was confident the team can again be a force in this year's NRC.
"We have a strong team for 2015 with nine players returning from last year's campaign and if we can have a similar season to last year, or even better, that would be great," Mr Coleman said.
"One of our advantages last year was that we were able to get out of the gates early and start the season strong so that will be key again this year."
The CSU NSW Country Eagles will play the Greater Sydney Rams in round one of the 2015 NRC on Saturday 22 August 2015 ahead of home games in Sydney, Tamworth, Newcastle and Bathurst.
Information about the team, fixtures and membership are available on the CSU NSW Country Eagles website.