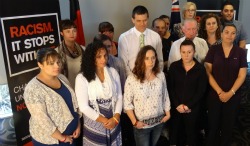 Charles Sturt University (CSU) has joined the 'Racism. It Stops With Me' campaign pledging its commitment to prevent racism in the organisation and its communities.
Led by the Australian Human Rights Commission, 'Racism. It Stops With Me' aims to ensure more Australians recognise that racism is unacceptable, giving people the tools and resources to take practical action, and empowering individuals to prevent and respond effectively to racism.
CSU is proud to have joined with a number of Australia's leading businesses, sporting bodies, non-government organisations and educational institutions to support the campaign. CSU has committed to preventing racism through a number of activities including events and workshops for staff and students, and the development of educational materials.
CSU Vice-Chancellor Professor Andrew Vann said, "I am very pleased to declare Charles Sturt University's commitment to and support of the 'Racism. It Stops With Me' campaign.
"Racism can take many forms and anyone can experience racist behaviour in their daily lives, at workplaces, schools or universities, home, online and in public places. It has a significant impact on both the individuals who experience it and the wider community. It presents barriers to social and economic participation which can in turn cause social exclusion and entrench disadvantage, sometimes for generations.
"I want to make it very clear through our commitment to this campaign that racism is not acceptable in the Charles Sturt University community.
"We are pleased to support and celebrate our diverse and multicultural university community so that everyone can reach their potential. I know that by supporting this campaign and working together we can build a tolerant community where there is no place for racism."
"Charles Sturt University is particularly committed to improving education outcomes and the lives of Indigenous Australians. Our Indigenous Education Strategy has been underway since 2009 and we are pleased to now have one of the highest proportion of Indigenous students of any Australian university (2.8 per cent). We have also improved Indigenous staff numbers over the past 10 years, reaching a target of 2.6 per cent (an increase from 0.9 per cent in 2005) and have set the target that three per cent of our total permanent staff be Indigenous by 2017," Professor Vann said.
For more information about the 'Racism. It Stops With Me' campaign visit the website or follow the campaign on Twitter @ItStopsWithMe.