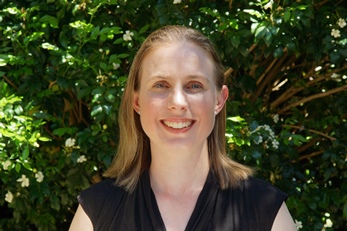 Striving for a world where deafness is not a disability for learners is the pursuit of Charles Sturt University (CSU) researcher Dr Kate Crowe, who has secured a prestigious 2016 Fulbright Scholarship.
The highly competitive, internationally recognised award will enable the speech pathologist and Australian Sign Language (Auslan) interpreter to spend six months in the USA pursuing her postdoctoral research at the Rochester Institute of Technology (RIT).
Dr Crowe said, "I look forward to a world where being deaf is a difference in ability, not a disability for Deaf and hard of hearing learners and I believe that this Fulbright Scholarship will be a leap, rather than a step, towards making that world a reality."
Her project will investigate Deaf and hard of hearing learners' semantic networks in order to improve the effectiveness of teaching language and literacy learning in the early intervention, at home, and in the classroom.
"Without this understanding of the learners' semantic networks and the strategies they use to access words and other semantic information, it's impossible to shape teaching to meet the learning needs of Deaf and hard of hearing learners," she said.
Dr Crowe will spend the second half of 2016 working with the Director of the Institute's Centre for Education Research Partnerships, Professor Marc Marschark.
She will conduct three studies involving RIT students who use American Sign Language and spoken and/or written English.
Dr Crowe said, "The Rochester Institute of Technology has a long history of providing tertiary education for Deaf and hard of hearing learners. The Centre for Education Research and Partnership focuses on translating research into practice in order to provide the best educational opportunities and outcomes for Deaf and hard of hearing learners of all ages.
"The knowledge and professional relationships gained through my Fulbright Scholarship and research project will greatly contribute to my own work and to the knowledge I can share and generate with other academics and health and education professionals in Australia, the USA and beyond."
Working within the University's School of Teacher Education, Dr Crowe is coordinator of the subject within the Master of Inclusive Education that helps graduate teachers who can meet the needs of students with communication difficulties within their classrooms.
She is also a member of the University's Research Institute for Professional Practice, Learning and Education (RIPPLE).
Dr Crowe worked with CSU Professor of Speech and Language Acquisition Sharynne McLeod as the project officer for the Sound Start Study – funded by an Australian Research Council Discovery Grant. The Sound Start Study investigated the speech and pre-literacy skills of pre-school children with speech sound disorder.
She will receive a 2016 Fulbright Postdoctoral Scholarship during the Fulbright Scholar presentation evening at the RACV Club in Melbourne on Thursday 25 February. CSU is proud to be a Silver Sponsor of the event.
Dr Crowe will be joined at the presentation evening by CSU Vice-Chancellor Professor Andrew Vann, Deputy Vice-Chancellor (Research Development and Industry) Professor Mary Kelly and Professor McLeod.
In congratulating Dr Crowe, Vice-Chancellor Professor Vann said, "The Fulbright Postdoctoral Scholarship is an incredible recognition of Kate's work.
"The Fulbright Program will enable Kate to advance and showcase her research on the world stage, supported by both her Charles Sturt University and Rochester Institute of Technology colleagues.
"We look forward to seeing Kate build on this exceptional opportunity on her return to Australia.
"Kate joins the Fulbright community as a unique individual with a dynamic career trajectory.
"Charles Sturt University is delighted to have a close relationship with the Australian-American Fulbright Commission. We have staff and alumni Fulbright Scholars, have previously hosted a US Scholar and Senior Specialist, our staff engage with the rigorous selection processes and we are proud to be a Silver Sponsor for 2016."
The Fulbright Program aims to 'develop long-lasting, productive bilateral relations, partnerships and connections between Australia and the USA'.