The 'Chardonnay challenge' facing Australian wine-makers is at the centre of a new project involving an international research team at the
National Wine and Grape Industry Centre
(NGWIC) at Charles Sturt University (CSU) in Wagga Wagga.
The project involves three leaders in the field of consumer sensory research: Professor Hildegrade Heymann from the University California Davis in the USA who is currently in Australia; Associate Professor Anthony Saliba from CSU; and Associate Professor Johan Bruwer from the University of Adelaide.
The group is collaborating on the project, Attitudes, drivers of consumption and taste preference – a focus on Chardonnay. They hope to establish the effect of wine taste on consumers, how their perceptions affect Chardonnay sales as well as how both of these issues affect each other.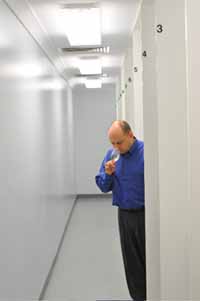 Professor Saliba said, "Results will arm the Australian wine industry with sufficient knowledge of the 'Chardonnay challenge' to respond by addressing any negative perceptions and promoting styles known to be liked by consumers.
"Chardonnay is the backbone of the Australian white wine industry but the sales decline since 2004 has hurt every region in the country."
In the project at the NWGIC:
Professor Heymann will conduct sensory descriptive analysis – a method to describe the differences among the wine styles. She will lead wine tasting panels at the NWGIC at CSU in Wagga Wagga from Tuesday 31 May to Thursday 2 June.
Results of the sensory descriptive analysis will be used to guide consumer preference research by Professor Saliba, Associate Professor of Perceptual Psychology in the School of Psychology at CSU in Wagga Wagga.
Further research to be conducted by Professor Saliba and Professor Bruwer will measure Australian domestic consumer attitudes towards wine and the wine industry and assess changes since 2007.
The project will adopt on a national scale a method already used by
Professor Saliba
in his research at the NWGIC for Semillon wine producers in the Hunter Valley of NSW.
Leading Chardonnay wine producers in Australia are also involved with the one year project which is due for completion by the end of June 2012.
The NWGIC is alliance of CSU, NSW Department of Primary Industries and the NSW Wine Industry Association.