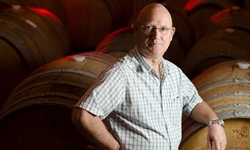 A smartphone app to help wine grape-growers and winemakers decide when to irrigate and harvest is being developed by Charles Sturt University (CSU) researchers.
It's part of research funded by Wine Australia at the National Wine and Grape Industry Centre (NWGIC) at CSU in Wagga Wagga to make it easier for growers and winemakers to find the ideal window to pick fruit to make a particular wine style, and to manage irrigation and so limit berry water loss and potentially shrivelling.
NWGIC Director, Professor Alain Deloire said it's based on a relatively new technique that's been used in Europe, South America and Africa.
"This approach uses sequential harvesting in association with fruit physiological indicators, such as berry volume and sugar accumulation along with the evolving skin colour of white cultivars, to determine the optimum harvest times to make the desired wine styles," said Professor Deloire.
"We carried out detailed analysis of different grape varieties in different climatic conditions and at varying altitudes in vineyards in four wine regions in NSW and South Australia to determine the main abiotic drivers of fruit and wine composition and to assess fruit or wine and sensory potential nexus.
"The key finding of the research is that this technique can be applied to Australia and that using this technique is it possible to create quite distinct wines from the same grapes grown in the same vineyard."
The next step is making the information user-friendly for wine-grape growers.
"We are working with Charles Sturt University's School of Computing and Mathematics, through the research unit CM3, to develop a smartphone imaging tool that growers can use in the vineyard," said Professor Deloire.
"After taking a photograph of the grape bunch on the vine, the app analyses the image and automatically detects the number of berries, their size and colour distribution.
"This information will allow real-time assessment of the tempo of berry growth and volume, and yield loss including shrivelling, bunch and vineyard homogeneity, to decide on appropriate cultural practices such as irrigation, the optimal harvest window and fruit sorting in the winery.

"We expect to have a working Android app prototype for testing by the wine sector during the next 2017 harvesting season.
"We want to show it to the industry and ask whether they will use it or whether it needs to be adapted in some way," he said. "There are a lot of apps out there that seem like a good idea but are never used."
Wine Australia General Manager, RD&E Dr Liz Waters said simple research-based tools help to take project outcomes into the vineyard.
"This app will quickly and easily provide in-field information that will help facilitate decision-making about appropriate vineyard practices and harvest date, which will help support excellence in wine grape-growing," she said.
CM3 researcher Dr Kenneth Li-minn Ang, from the CSU School of Computing and Mathematics in Wagga Wagga, said, "This smartphone tool uses novel image processing and machine learning techniques developed by CM3."