How much is too much has been the enduring question posed by winemakers when trying to assess consumer preference for a eucalyptus flavour in Australian red wine.
Researchers at the
National and Wine and Grape Industry Centre
(NWGIC) at Charles Sturt University (CSU) at Wagga Wagga have designed a tool to definitively answer the divisive question surrounding eucalyptus flavour.
"There is much debate within the industry about whether eucalyptus flavour is a positive or negative trait in wine," said Dr Anthony Saliba, a Sensory Scientist at the NWGIC.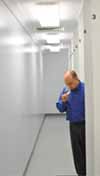 "Some wine judges have been rather outspoken on the issue, even calling it a taint, while others see it as a regional character. Every wine show I speak at, I get asked what level winemakers should aim for, or whether they should be throwing wine out at really high levels."
Dr Saliba and his colleagues Professor Jim Hardie and Ms Jennifer Bullock have conducted a consumer preference experiment. The result is a graph to take the guess work out of assessing eucalyptus flavour in red wines.
"For absolute clarity, we discovered the exact level of the compound 1,8-cineole after which consumers reject the eucalyptus flavour.
The Consumer Rejection Threshold (CRT) is the point at which most people won't like the flavour, so winemakers know not to release that to the market. There are a number of things a winemaker can do in response, the easiest of which is blending with unaffected wine to reduce to more positive levels.
"There is now no more wondering. What's more, the technique can be used to figure out consumer acceptance of other flavours, provided the chemical compound is known," said fellow researcher and Professor of Winegrowing Innovation, Jim Hardie.
As part of the study, 40 regular wine drinkers were recruited from the general community in Wagga Wagga to participate in wine tastings and questionnaires about the preference for eucalyptus flavour.
The research is outlined in the article, 'Consumer Rejection Threshold for 1,8-cineole (eucalyptol) in Australian Red Wine', which will published in the journal Food Quality and Preference in 2009.
The NWGIC combines research, extension, education and training for the wine industry and is an alliance of CSU, NSW Department of Primary Industries and NSW Wine Industry Association.