Researchers at Charles Sturt University (CSU) are developing a fresh look at the world of early childhood education – directly through the eyes of young children who are not yet able to speak about their experiences.


With the use of a baby-cam, a research team at CSU is studying footage taken from a tiny camera mounted on an infant's hat or headband while in childcare.
The footage is part of an Australian Research Council-funded project to examine what life is like from the perspective of babies and toddlers in family day care homes and long day care centres.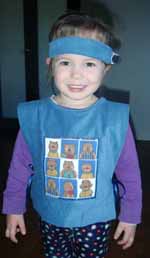 Baby-cams have been used on children aged from six months to 18 months in the two types of care in Albury-Wodonga, the Blue Mountains and Sydney. The children have been recruited through KU Children's Services and Family Day Care Australia, industry partners in the project.
"It is particularly important we understand what babies and toddlers see, hear and experience in childcare," said Foundation Professor of Early Childhood at CSU, Jennifer Sumsion. "Research has been done in this area in the past but not of the scale of this project.
"The researchers are also filming the children with a 'normal' video camera. So we are collecting two lots of simultaneous footage – one from the video camera capturing whatever the baby or toddler happens to be doing, and the second from the baby-cam that enables us to see, more-or-less, what the baby or toddler sees.
"When we play both sets of footage side by side, it gives us an amazing sense of being able to enter the baby or toddler's space; to begin to get a sense of what the world might look like from their perspective as they relate to their peers and to the educators and go about their everyday lives in the centre or the family day care home.
"Once you view the footage you have a fresh understanding how big everything looks for a child - from a spoon with food on it to a bottle of milk or water. It can actually be quite mind-blowing. Everyday toys and objects can look huge from a baby's or toddler's view of the world.
"The baby-cam is only worn by the child for a limited time of 10 or 15 minutes. It varies from day to day depending on what might be happening in the child's day and whether they are happy to wear it. If a child doesn't want to wear the baby-cam, then they don't have to put it on or the device is removed.
"The team has been collecting data for two years and will continue for another six months. We have begun to analyse the data and to publish some of the early findings. The data analysis and writing will continue for at least another two years."
It has attracting national and international interest as a technique used to see life through the eyes of infants. Professor Sumsion has spoken about the research at conferences in Australia, Austria, England and Norway. The research team hosted an international symposium focusing on researching with infants in Bathurst late last year, attended by leading researchers from six countries.
"During one presentation at a Family Day Care conference in regional NSW, the audience was absolutely fascinated by the baby-cam footage.
"The Australian Research Council funding for the project ended in December 2011 but we are continuing to analyse data and write reports on the project. With six chief investigators involved and two full-time PhD students as well as a part-time research student, there has been a significant investment in the project for the benefit of the early childhood sector.
"This project is a very exciting in the information it is delivering to ensure quality early childcare as well as its role in engaging the next generation of early childhood researchers," Professor Sumsion said.
The project is titled What's life like for babies and toddlers in childcare? Understanding the 'lived experience' of infants through an innovative mosaic methodology.
The CSU research team is being led by Foundation Professor of Early Childhood Jennifer Sumsion. The project team includes Associate Professor Linda Harrison, Foundation Professor of Psychology Ben Bradley, Professor of Speech and Language Acquisition Sharynne McLeod, Senior Lecturer Dr Fran Press, and Adjunct Professor Joy Goodfellow. PhD students Ms Tina Stratigos, Ms Sheena Elwick and Ms Sandra Cheeseman are also key members of the research team.
The project is in collaboration with industry partners KU Children's Services and National Family Day Care Australia.