Wine lovers have been enlisted to explore the final frontier of wine appreciation - mouthfeel.
Researchers have identified nine mouthfeel categories, which include heat (from alcohol), dryness, viscosity or thickness, acidity and bitterness.
"Nose and taste are familiar concepts - mouthfeel is a third dimension which contributes to the sensory enjoyment of wine and the preference for one wine over another," said Industry & Investment (I&I) NSW viticulturist, Mr Leo Quirk.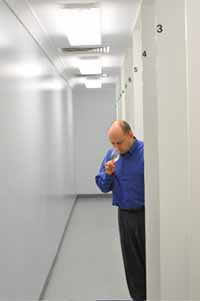 Charles Sturt University (CSU) scientist, Dr Anthony Saliba, says previous studies have looked at characterising mouthfeel but this is the first time it has been linked to consumer preferences.
"This study aimed to enable vignerons to deliver wines which hit all the right notes with their customers," Dr Saliba said.
"We believe mouthfeel may be as important, or even more important, than flavour in determining which wines are chosen over others.
"The popularity of two recent hit varieties, Pinot Gris and Sauvignon Blanc, could be attributed to mouthfeel.
"The subtle flavours of Pinot Gris were seen to be its secret to success and consumers loved the big 'in your face' flavours of Sauvignon Blanc.
"Mouthfeel could be the characteristic which drives the popularity of these two very different wines."
Analysis of mouthfeel and intensive training of a sensory panel preceded a pilot study of Cowra Chardonnay, a wine for which the region is renown, and one with a range of styles offering a variety of mouthfeels.
Dr Saliba said 12 people were trained to understand the mouthfeel terms using an international standard for quantitative descriptive analysis.
"We had to make sure they could reliably and consistently rate the mouthfeel qualities.
"Viscosity or wine thickness was explained using an artificially thickened wine which was as 'thick' as wine could possibly be and this was rated a 10.
"For a viscosity rating of one the standard was water."
Once the panel achieved a competent standard they applied their palates to the real Cowra Chardonnays.
Researchers recently presented their results to the Cowra Region Vineyard Association.
Association president, Mr Jason O'Dea, said the mouthfeel study was a real eye-opener.
"I was blown away - it's a very valuable insight into what compels people to rate one wine over another," Mr O'Dea said.
"We can use mouthfeel to identify customer preferences and adapt our viticultural practices and winemaking techniques to better target our markets."
NWGIC scientists are now exploring the use of laboratory tests to measure some mouthfeel characteristics and plan to extend the mouthfeel project to additional wine varieties and regions.
The
NWGIC
is an alliance between I&I NSW, CSU and the NSW Wine Industry Association.
Story by Bernadette York.