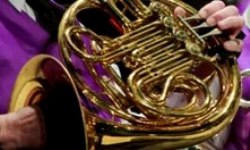 Charles Sturt University (CSU) will sponsor a two-day intensive workshop in Orange in July 2015 for up to 150 music students from four regional NSW conservatoriums.
CSU will provide a grant of $3 750 under its Community-University Partnership (CUP) program to Orange Regional Conservatorium to organise and host the event. The two-day workshop, focusing on music collaboration, will bring together 100 to 150 selected high school-aged students and adult students.
The Head of Campus at CSU in Orange, Dr Heather Robinson, said, "This is an excellent and practical demonstration of the University's CUP program in action.
"Orange Regional Conservatorium will work with regional conservatoriums in Goulburn, Young and Tamworth to develop an inter-Conservatorium field trip to Orange in mid 2015," she said.
"The objective of the project is to give Conservatorium students from four NSW communities the opportunity to meet, share ideas and work together to create music in a professional environment with leading music educators from across the state.
"There is also the opportunity for the project to use some of Charles Sturt University's state of the art facilities in Orange."Read more about CUP here.