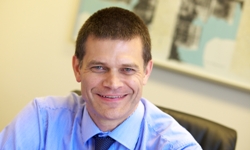 Charles Sturt University (CSU) has welcomed the Federal Opposition's announcement today of its strong commitment to innovation in rural and regional Australia.
CSU Vice-Chancellor Professor Andrew Vann said he was pleased the Federal Opposition's third wave of innovation reforms acknowledged the vital role of regional universities.
"Charles Sturt University strongly supports the proposed Regional Innovation Fund, and its focus and financial backing of innovation across regional areas," he said.
"It is positive to see a policy which supports universities to continue driving innovation and playing an active role in our own regions, bringing about positive outcomes for our communities.
Professor Vann said the design of the Regional Innovation Fund was flexible and genuinely appreciative of the multi-faceted nature of innovation.
"It is particularly pleasing to see the potential to fund universities to provide important and often missing skills for regional entrepreneurs and provide seed capital for promising student endeavours," he said.
"The holistic approach of the Regional Innovation Fund would allow universities and regional partners to work with government and achieve outcomes that best serve the national innovation drive and the needs of regional communities."
CSU also welcomed the proposed establishment of Innovate Australia, which would adopt the British model for Innovate UK, creating an independent body for innovation leadership.
"This would provide vital continuity, especially for Australia's regional areas if they were to fully grasp the opportunities available through well supported and funded innovation schemes," Professor Vann said.
"CSU looks forward to further engagement with the Federal Opposition on this policy and is encouraged by their commitment to innovation. In particular CSU welcomes the chance to play an important role in realising the potential of rural and regional Australia and seizing the economic and social benefits."