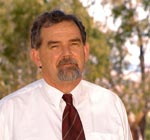 Charles Sturt University (CSU) Deputy Vice-Chancellor (Academic), Professor Ross Chambers, welcomed the announcement by the Minister for Education Employment and Workplace Relations, The Hon. Chris Evans, MP, that its bid to establish new TAFE-University Centres in Parkes, Wangarratta, Port Macquarie, Griffith and Deniliquin, and expand its Centre for Indigenous Studies in Dubbo, will progress to Stage Two of the Structural Adjustment Funding (SAF) round.
The Structural Adjustment Funding program was established to assist universities to invest in major new strategies in preparation for the creation of the competitive higher education market in 2012. CSU proposed the creation of major new TAFE-University Centres in collaboration with Riverina Institute of TAFE, Western Institute of TAFE, Goulburn-Ovens Institute of TAFE and North Coast Institute of TAFE, to improve the accessibility of higher education in smaller rural centres, and large towns without a major university presence.
"Our collaborative bid involved the most significant expansion of Charles Sturt University's presence in rural Australia since its formation in 1989," Professor Chambers said.
"We estimated that it would create new opportunities for more than a thousand students who are presently unable to go to university in rural and regional areas because of distance from a major university campus.
"The proposal recognised that students who train in the bush remain in the bush. It aimed to improve the capacity of Charles Sturt University and TAFE to better address labour force shortages in smaller rural areas and regional cities without a major university presence.
"The proposal was built on our established strength in working with TAFE to promote improved access and opportunity for rural students.
"This year alone Charles Sturt University admitted 31 per cent of its students based on TAFE qualifications, an increase of 6 per cent on 2010.
"A recent report by the NSW Board of Vocational Education on TAFE-University collaborations around Australia highlighted Charles Sturt University's success in providing pathways for TAFE students.
"Our proposal would be the first major new investment by an Australian government in expanding the geographic presence of higher education in rural and regional Australia for more than a decade. We acknowledge that it will require more detailed discussions with the government to ensure we have the settings right.
"I will be talking with our TAFE partners, and our local communities, over the next week about how we will advance this initiative to ensure it is successful in Stage Two.
"I have scheduled talks with the department for mid-March to make sure that this plan can be progressed so we can start construction of new facilities in smaller rural areas and regional centres this year," Professor Chambers said.