Charles Sturt University (CSU) has experienced a dramatic rise in enrolments in its viticulture and wine science programs at the same time the Australian wine industry is feeling the pinch of the global financial crisis and an oversupply of grapes worldwide.
Enrolments for new students in courses in viticulture and wine science have risen from 44 in 2008 to 87 in 2009, including students studying on campus as well as by distance education. This brings the total number of students enrolled in wine-related courses at CSU to 390.
"This increase in students at Charles Sturt University comes at a time when the industry is actually going through a difficult period domestically as well as with its exports," said Head of the
School of Agricultural and Wine Sciences
at CSU at Wagga Wagga, Associate Professor John Kent.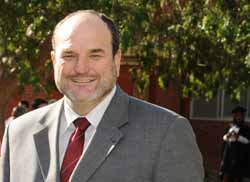 "It is difficult to pin down the exact reasons for the enrolment surge. Is it that people often choose education and turn to study when jobs dry up; or is there more to it? The Australian wine industry is approaching the end of one of several cycles of growth that have characterised it from the beginning. Perhaps people are sensing this and preparing for the start of a new era. Perhaps they see opportunities overseas.
"This acknowledges the importance of education and science to improve production, wine quality and business management to ensure sustainability.
"The enrolment rise is also the culmination of work by the
School of Agricultural and Wine Sciences
at Charles Sturt University to increase its emphasis on viticulture and wine science and our reputation as a leading provider of education and research in the field," said Associate Professor Kent.
Industry input
Among the first to complete the new wine science course at CSU's predecessor organisation, the Riverina College of Advanced Education in 1978, and now Director and Principal Consultant of Wine Network Consulting Pty Ltd was Mr Gary E Baldwin.
"The current setbacks facing the industry would tend to suggest that employment opportunities in the sector are somewhat limited at present," said Mr Baldwin. "But our industry has seen many cycles previously and has bounced back. I am confident that it will bounce back again and more young winemakers and viticulturists will be required as the next cycle of success starts.
"The industry has always been hungry for well educated graduates and in particular those who have studied other disciplines have done well. In the future graduates with previous experience or an understanding of marketing and business will be in high demand," said Mr Baldwin.
I think there is an opportunity in higher education in Australia to provide short courses and specific vocational training in many expert fields within wine and viticulture to improve the skill base of all staff to ensure the future of the Australian wine industry."
Education for the professions
A sommelier in Luke Mangan's Glass Brasserie at Sydney's Hilton Hotel, Ms Kyla Smart is one of the students currently studying wine science at CSU by distance education.
"Charles Sturt University's reputation in wine science education attracted me to the degree. The program also allowed me to study
the degree via distance education," said Ms Smart.
"As a sommelier, I'm constantly finding out new things about wine regions, food and wine matching and industry news, and now I am studying the aspects of wine-making and viticulture that I can't learn on the job.

"I hope to move from Sydney in a few years and get a job in a winery in regional Australia. That's a contributing factor to my decision to study at Charles Sturt University as well," said Ms Smart.
Research and extension
The
School of Agricultural and Wine Sciences
is situated at the CSU at Wagga Wagga, which is also home to a commercial vineyard and winery. The
National Wine and Grape Industry Centre
NWGIC) – an alliance between CSU, the NSW Department of Industry and Innovation and the NSW Wine Industry Association – is also located at the University at Wagga Wagga and offers invaluable research and extension opportunities for students.
"Wines made in the CD Blake Experimental Winery at the NWGIC are a special feature of the teaching programs at Charles Sturt University," said NWGIC Director Professor Jim Hardie. "They are used to demonstrate to students the impact of particular techniques of grape and wine processing. This cannot be done with commercial wines because they are usually crafted using a complex array of techniques used by winemakers to achieve proprietary styles."
Renewal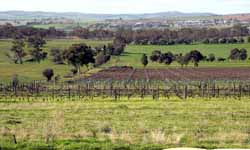 In close consultation with industry, CSU has spent 12 months reviewing its viticulture and wine science program and has revamped its courses for 2010.
"We have looked ahead and scrutinized what knowledge and skills will be needed by industry both here and overseas," said Associate Professor Kent.
"We believe we have devised a very, very good suite of courses to produce graduates with knowledge and skills for the industry five to six years and beyond."
The enrolment increase in the viticulture and wine science program follows an 82 per cent increase in enrolments in 2009 in the Bachelor of Science (Agriculture) also offered through the School of Agricultural and Wine Sciences at CSU at Wagga Wagga. CSU is now the largest supplier of agricultural education in Australia. Read more
here.
Further information about the viticulture and wine science program in the School of Agricultural and Wine Sciences at CSU at Wagga Wagga is available
here.