Students and staff at Charles Sturt University (CSU) in Wagga Wagga will soon be able to catch a bus to and from more parts of the city and some local towns and villages, representing an expansion of the existing service provided by the University.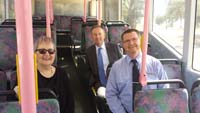 From Monday18 November, the University and Busabout Wagga have agreed to expand the city's current public transport network to include CSU's main campus at Boorooma Street. Passengers can also connect with the current public bus system, which services the whole of Wagga Wagga, including Gumly Gumly and Forest Hill.
A number of transfers will also be available on public school days with services to Tarcutta, The Rock, Uranquinty and Mangoplah.
Bus travel within the main campus of the University will be free. Busabout will charge a fare of $3 between CSU and the Wagga Wagga CBD, Ashmont, Turvey Park, Glenfield and Mount Austin. Travel between CSU and Lake Albert, Kooringal and Bourkelands will incur a fare of $3.50. This is available to all students and staff of the University.
CSU Executive Director of Finance Mr Paul Dowler said as part of the agreement the University will no longer operate its own bus service.
"Regular bus services to the University will continue, and being part of the Busabout network will provide for enhanced coverage and better access to public transport," said Mr Dowler.
"The proposal has the support of the Wagga Wagga Student Representative Council (SRC), the University's Student Services and CSU Green, the University's sustainability initiative."
President of Rivcoll SRC, Ms Hannah Milnes, said while it will be different not to have the University service, it will be good to have a more comprehensive coverage.
Busabout Depot Manager, Mr Matthew Bell indicated that the change will mean that around 80 per cent of the Wagga area will have services while the existing University service covered only around 35 per cent.
Under the agreement an hourly bus services will operate between CSU and the Wagga Wagga CBD between 7.30am and 5.30pm Monday to Friday and a two-hourly service will operate between 8:30am and 5:30pm on Saturdays. Within the campus, a two-hourly service will operate on weekdays and three return journeys on Saturdays.
These services will be maintained during University holidays and residential schools.
To ensure a smooth transition CSU will continue to operate its bus services until Saturday 16 November.