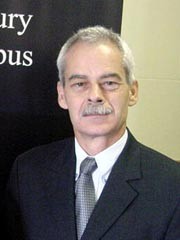 Charles Sturt University Vice-Chancellor, Professor Ian Goulter, has welcomed the Rudd Government's announcement of a further $500 million in special one-off infrastructure funding for the development of 21
st
century teaching and learning spaces in Australia's universities.
"Under the initiative, Charles Sturt University will receive a special one-off payment of $14.9 million for infrastructure spending," Professor Goulter said.
"This amount comes on top of the $11.6 million in infrastructure funding announced in May, bringing the total infrastructure contribution to $26.5 million.
"This is not just an investment in Charles Sturt University, but an investment in the communities of inland Australia.
"Economic modelling has shown time and again that every cent spent by the University in a regional area to enhance educational opportunities for students has a direct multiplier effect on economic activity in our campus towns," said Professor Goulter.
"Not only will this investment create benefits for our students, it will have flow-on effects in sustaining and growing jobs across our regions in retail, information technology, construction, building supplies, engineering and related areas.
"Charles Sturt University has already committed all of the original $11.6 million in funding granted in May to infrastructure and maintenance initiatives, to build a better environment for our students and stimulate economic activity in our regions.
"This new funding will provide for the ongoing enhancement of our buildings and information technology for both our on campus and distance education students.
"However, while this new funding is important and welcome, it will not address the ongoing challenge of generating sufficient recurrent income to fund salaries and new investment in course development and learning technologies.
"We look forward with some anticipation to the release this week of the Bradley Report on the Review of Australian Higher Education. We are particularly interested in its proposals for addressing the ongoing problem of recurrent funding of Australian universities."
Initiatives funded under May Budget commitment of $11.6 million
A wireless network upgrade across the University: The project will provide high bandwidth wireless network coverage across the campuses using the advanced 802.11n standard wireless networking technology.
Morell Laboratory redevelopment at CSU at Wagga Wagga: The project includes a refurbishment of the laboratory precinct for the Schools of Dentistry and Health Science, Nursing and Midwifery and Biomedical Sciences. It will include a full mock hospital ward for the expansion of the University's nursing and midwifery courses.
Refurbishment of student social space at CSU at Bathurst: The existing student amenities buildings are in need of a major redevelopment and refurbishment.
Extension of student social space at CSU at Albury-Wodonga: Extensions will be made to the entertainment area, storage, catering and servery facilities as well as office spaces.
Refurbishment of student social space at CSU at Wagga Wagga: Two major student amenities currently known as the Nosh Pit and Ag Tavern will be upgraded and relocated in the case of the Ag Tavern.
Major refurbishment of building C2 at CSU at Bathurst: The 1970s general teaching building will undergo a redesign to make it more accessible and flexible for modern teaching requirements.
Refurbishment of the Outside Broadcasting Vehicle at CSU at Wagga Wagga.
Podcast, vodcast, and synchronous online learning tools: This project will fund technology infrastructure and services to integrate podcasting, vodcasting and synchronous online learning tools within the CSU Online Learning Environment.
Library redevelopment at CSU at Bathurst: the work will include the creation of group study places, multimedia rooms and spaces for researchers and parents.
Major refurbishment of teaching spaces at CSU at Wagga Wagga: The 1970s buildings including lecture theatres and classrooms for visual arts and teacher education will undergo improvements.