The man recruited to Charles Sturt University (CSU) to oversee the establishment of the first veterinary science program based in regional Australia has received resounding praise for his legacy.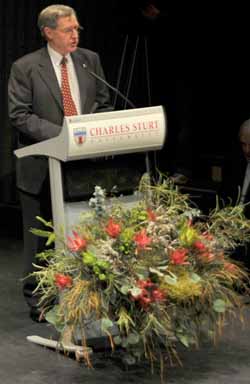 Professor Kym Abbott, Head of the
School of Animal and Veterinary Sciences
at CSU was formally farewelled at a ceremony attended by senior University staff on Monday 29 November.
Recruited from the Royal Veterinary College (University of London) in the United Kingdom in 2004, Professor Abbott welcomed the first students to study veterinary science outside metropolitan Australia the following year.
Leading the praise for Professor Abbott's achievements is the University's Dean of the Faculty of Science, Professor Nick Klomp. "It is without doubt that Kym leaves the
veterinary science
program in an excellent position.
"The testimony to his hard work and superior management skills is the large number of purpose-built veterinary science facilities now at Charles Sturt University. This infrastructure that Kym has overseen is well supported by the specialist animal and veterinary science academics and support staff who have been recruited to Charles Sturt University from overseas and around Australia during his administration.
"Kym's vision, commitment and work ethic led to him being presented with the Vice-Chancellor's Award for Leadership Excellence earlier this year."
Professor Abbott's pioneering work with the veterinary science program at CSU culminated last August when the first group of graduates swore their professional oath.
At the same time, the new veterinary science program received full accreditation from the regulatory body, the Australasian Veterinary Boards Council Inc.
"The accreditation report for veterinary science at Charles Sturt University was nothing short of glowing; the praise was due in large part to the outstanding vision and dedication of Kym," Professor Klomp said.