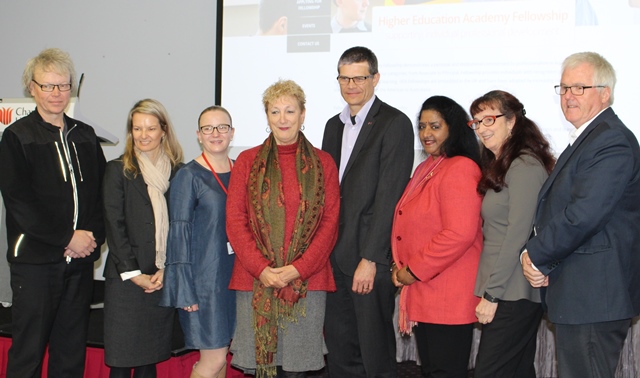 Academics at Charles Sturt University (CSU) have received international professional recognition of their experience and expertise in university teaching.
The Higher Education Academy (HEA) in the United Kingdom has named 16 CSU staff as Fellows for excellence in teaching and learning practice.
During a ceremony at CSU in Wagga Wagga on Thursday 20 July, Vice-Chancellor Professor Andrew Vann congratulated the three Principal Fellows and 13 Senior Fellows awarded by the HEA from 2015 to 2017.
Pro Vice-Chancellor (Student Learning) Professor Sandra Wills said, "The quality and credibility of Charles Sturt University graduates depends on the quality of the courses our academics design and deliver.
"Measuring the excellence of the academics against international standards is one guarantee to the students of our continuous commitment to quality.
"For the academics honoured through this rigorous peer review process, the Fellowships are external recognition of their achievements and demonstrates the University's commitment to rewarding teaching excellence as well as research excellence."
HEA Fellowships demonstrate a personal and institutional commitment to learning and teaching in higher education assessed against professional standards laid down by the HEA. The Fellowship levels include Associate, Senior and Principal Fellows, and recognise practice, impact and leadership of teaching and learning.
The HEA Principal Fellows at CSU are: Professor Tim Wess (2017); Associate Professor Kogi Naidoo (2016); and Professor Joy Higgs (2015).
The HEA Senior Fellows at CSU are: Associate Professor Janelle Wheat (2017); Associate Professor Maree Simpson (2017); Dr Patricia Logan (2017); Dr Lucy Webster (2017); Associate Professor Michael Curtin (2015); Associate Professor Ben Wilson (2015); Associate Professor Elizabeth Thompson (2015); Dr Lindy Croft-Piggin (2015); Dr Deb Clarke (2015); Dr Jenni Munday (2015); Dr Narelle Patton (2015); Dr Pam Roberts (2015); and Dr Barb Hill (2015).