A research scientist leading a million-dollar project to improve Pakistan's dairy sector is the inaugural Professor of Animal Production at Charles Sturt University (CSU).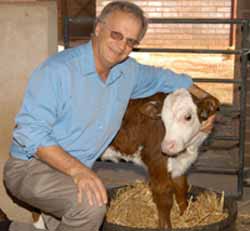 Professor Peter Wynn has commenced in the joint McCaughey Memorial Institute (MMI)-CSU Chair in Animal Production, based in Wagga Wagga, NSW. The position is funded by a $600 000 donation from MMI towards veterinary science programs at the University.
Announced in late 2007, the Institute's donation marked the largest single financial contribution to CSU's veterinary science program, which was established in 2005.
Professor Wynn was an Associate Professor at the University of Sydney and a senior CSIRO research scientist, with research interests in the physiology of the stress response and the hormonal regulation of body composition, wool fibre growth and lactation.
He is currently leading an Australian Centre for International Agricultural Research (ACIAR) project to increase dairy production in Pakistan by improving training and extension services to smaller dairy farmers.
"These farmers are dependent almost solely on an income from three to eight buffalo or cows to support their families, with little outside help. This project will lead to the implementation of training programs for Pakistani university students at CSU," said Professor Wynn.
Another project Professor Wynn brings to CSU relate to improving the efficiency of the Australian pig industry through the Pork Cooperative Research Centre, which CSU now supports as an Associate Partner. The work will be conducted in collaboration with some of Australia's largest pig producing companies located in the Riverina region of NSW.
"One major aim of this new joint MMI-CSU Chair is to build stronger links between the farming community of our region and key research groups through the University's and NSW Department of Primary Industries' EH Graham Centre for Agricultural Innovation, as well as CSU students enrolled in the new Animal Science training programs.
"These links are vital in achieving our goals of producing the practically oriented animal and veterinary science graduates that our animal industries require, enabling them to expand and remain competitive in our global economy," Professor Wynn said.
"I believe the Riverina is uniquely placed to meet the demands of this training program because of the resources that service so many of the key animal industries including the dairy, wool, meat and poultry industries," he added.